---
Many of you may have heard of Agenda 21, but are not sure what it is, or why it matters. That is what I hope to change with this series. I will attempt to show you hard evidence through government sources, and statements straight from the puppet politicians implementing this agenda, to the detriment of their citizens. Many of them do this unwittingly, but quite a few of them are quite happily obliging, knowing very well what they are doing, and selling their countries out with devastating effects.
Is it real?
This may seem like a strange question, considering the introduction you just read, but a staggering amount of people haven't done the basic exercise of checking if this agenda actually exists. The guy on the radio (if it even makes it to the airwaves) laughed it off, called it a "conspiracy theory", so maybe it's all just a crazy paranoid myth, right? Wrong. I can assure you it exists, and you can see the entire original document, on the United Nations website, here.
Why does it matter?
Before I even begin to explain why the intent and contents of this plan is bad, it is important to explain why it is important at all. Whether you agree with the words written in that document or not, the main problem with it is this: most people in the world today, living in what appears on the surface to be free democracies, live with the assumption and expectation that we, the people, elect other people to positions in government, to act as our representatives and manage our respective countries to benefit all its people to achieve maximum prosperity and freedom. It is implicit in our understanding of this dynamic, that these leaders should not be enacting policies or programs that are to our detriment, and definitely not the policies and programs of foreign entities. At very least, we should be asked for consent, and fully informed if they wish to implement policies/programs of a foreign entity not accountable to our institutions, and this is exactly the problem with Agenda 21:
It is the Agenda of a foreign, unelected, and unaccountable mega-bureaucracy of career parasites, who are using our money, to fund these measures which are demonstrably against our best interest, often by incurring more debt.
That is the main problem, regardless of whether you think it's contents are a good idea or not.
We should have been properly informed, and then asked for consent, and that has never happened with any of the 178 countries who are signatories of this agreement.
What is Agenda 21? – A few different descriptions
There is a reason many people still haven't heard about Agenda 21, nearly 25 years after the agreement was signed – it is because it was marketed to the public under a less sinister sounding name, something we've ALL heard of: "sustainable development". That's right: Agenda 21 IS "sustainable development", and it's very important to understand that this does NOT mean what we all would naturally assume by the dictionary definitions of those words, or what you really really want it to mean.
No. It means none of that. It means the 351 pages of it, the way the UN, decided. Without any input or consent from any of the citizens of the signatory countries. I can't stress this enough – it doesn't mean what you think or feel it should mean. It's already been defined 25 years ago, by the UN. An organization none of us ever consented to join.
Now that we have that out of the way, let's get to the question, what is it?
That very much depends on who you ask. If you ask the United Nations:
"Agenda 21 is a comprehensive plan of action to be taken globally, nationally and locally by organizations of the United Nations System, Governments, and Major Groups in every area in which human impacts on the environment."
Herein lies the reason many other people you may ask what Agenda 21 is, may say that it's a plan for total global control: Because ALL human activity, impacts the environment.
You may also ask yourself, how did nearly every government on the planet, manage to slip something of this magnitude past their electorate? Well, because of the much repeated claim, that this is a "non-binding voluntary agreement". My response to this, would be non-binding and voluntary for who? Certainly not for you! This claim is absolutely false.
If you ask Daniel Sitarz however, the activist-lawyer who literally wrote the book on Agenda 21, called "Agenda 21: The Earth Summit Strategy to Save Our Planet", it is the following:
"Agenda 21 proposes an array of actions which are intended to be implemented by EVERY person on Earth…it calls for specific changes in the activities of ALL people… Effective execution of Agenda 21 will REQUIRE a profound reorientation of ALL humans, unlike anything the world has ever experienced… "
Sounds mighty "voluntary" and "non-binding", doesn't it?
If you ask Rosa Koire, author of "Behind the Green Mask – UN Agenda 21", and former district branch chief for the California Department of Transportation, and real estate appraiser specializing in imminent domain valuation, it is this:
"…. the global action plan to INVENTORY and CONTROL all land, all water, all energy, all minerals, all construction, all plants, all animals, all means of production. all information, and all human beings in the world. INVENTORY AND CONTROL."
And if you ask me, it is the UN's "one size fits all" global development/economic blueprint for the 21st century, to control the entire planet's population under a global technocratic, unelected, unaccountable world government, with one of it's main goals to cull the totally controlled human population. The elites are exempt, you are not, and they will extract money from you, to implement your own enslavement.
From The UN's Sustainable Development website:
The 2030 Agenda for Sustainable Development, adopted by all United Nations Member States in 2015, provides a collective Utopian blueprint for peace and prosperity for people and the planet, now and into the future. At its heart are the 17 Sustainable Development Goals (SDGs), which are an urgent call for action by all countries – developed and developing – in a global partnership. They are called to recognize that ending poverty and other deprivations must go hand-in-hand with strategies that improve health and education, reduce inequality, and spur economic growth – all while tackling "climate change" and working to preserve our oceans and forests.
The SDGs build on decades of work by countries and the UN, including the UN Department of Economic and Social Affairs
Today, the Division for Sustainable Development Goals (DSDG) in the United Nations Department of Economic and Social Affairs (UNDESA) provides substantive support and capacity-building for the SDGs and their related thematic issues, including water, energy, climate, oceans, urbanization, transport, science and technology, the Global Sustainable Development Report (GSDR), partnerships and Small Island Developing States. DSDG plays a key role in the evaluation of UN systemwide implementation of the 2030 Agenda and on advocacy and outreach activities relating to the SDGs. In order to make the 2030 Agenda a reality, broad ownership of the SDGs must translate into a strong commitment by all stakeholders to implement the global goals. DSDG aims to help facilitate this engagement.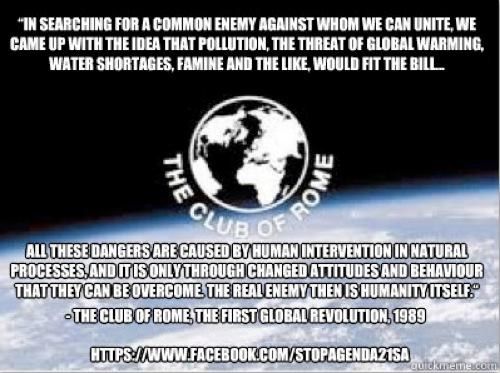 Introduction
Before I get into the origins of UN Agenda 21/"Sustainable Development", I just want to highlight two important aspects from the previous chapter, and briefly introduce you to two lesser known role players.
Number one, Agenda 21 is a GLOBAL agenda. Global policy, for the 21st century. The reason I stress this, is that there is nowhere to run. We will have to defeat this from the ground up, from our local communities, our own countries. Nobody is going to do it for us, we have to do it.
Secondly, "Sustainable Development" does not mean what people would naturally assume it to mean based on the definitions of those words, or what people really want it to mean. We didn't define it through any sort of democratic process. It was prepackaged, and already defined by the UN, and as I wrote in chapter 1,
"…it is the Agenda of a foreign, unelected, and unaccountable mega-bureaucracy of career parasites, who are using our money, to fund these measures which are demonstrably against our best interest, often by incurring more debt."
Some lesser known role players
I want to introduce you to two role players here which you may never have heard of, and you may wonder why I even bring them up. Well, because you probably won't find this in wikipedia writeup of Agenda 21, and I want you to keep these and their connection to Agenda 21 "Sustainable Development" in mind, as we progress in this series. Because they are connected, and I think it's important that people know they are connected, and how.
1) The Club of Rome
The Club of Rome is a "think tank" (I always prefer the term "twat bucket") that describes itself as
"… an organization of individuals who share a common concern for the future of humanity and strive to make a difference"
and it consists of high level politicians, UN bureaucrats, diplomats, scientists, economists, and business leaders from all over the world.
Their honorary membership list includes former presidents and prime ministers, you know, the club you'll never be in, people like Rigoberta Menchú Tum, Guatemala, (UNESCO Goodwill Ambassador – a word on "World Goodwill" a little later), and some slightly more, shall we say… elite club members. Like Juan Carlos I, King of Spain, Princess Beatrix of the Netherlands, Dona Sophia, Queen of Spain. All in all a lovely bunch of people whose default view of the world is that they're better than you, and who totally understand the plight of the family-raising middle class. 😂👎🏻
In 1991, The Club of Rome published a report titled, The First Global Revolution. The book is divided into two sections, The Problematique and The Resolutique. Towards the conclusion of the Problematique, it states:
"In searching for a common enemy against whom we can unite, we came up with the idea that pollution, the threat of global warming, water shortages, famine and the like, would fit the bill"
"But in designating these dangers as the enemy, we fall into the trap… (of) mistaking symptoms for causes. All these dangers are caused by human intervention in natural processes, and it is only through changed attitudes and behaviour that they can be overcome. The real enemy then is humanity itself."
Yes, the enemy is humanity itself, and the challenges can only be overcome through changed attitudes and behavior. Not through development. Not through technological advancement. This is significant because as you'll see later in the series, the cornerstones of Agenda 21/sustainable development strategy is behavior modification and "demand management" through punitive measures, much in the way you would do behavioral conditioning on rats, but which they call "incentives and disincentives". More like bribes and penalties, if we call them by their real grown up names.
Later in the book, in the "Resolutique" section it states,
"To meet the needs expressed above, we therefore reiterate the reccomendation in The Club of Rome declaration of 1989 that a world conference on the common environtmental imperitavies be held, aimed at the creation of a UN environmental security council…"
"if not constituted earlier, this could be a major outcome of the United Nations Conference on Environment and Development to be held in Brazil in 1992"
So this "think tank", that declared "humanity itself" the enemy, clearly called for, and foresaw, a future in which the UN exerted a great amount of control and influence globally, under the pretext of environmental protection. Remeber that.
Numerous players in the Club of Rome have since the release of The First Global Revolution, gone on to be major influencers in the development, of UN Agenda 21 "Sustainable Development". The global planning agreement, that your government is committed to, and has never achieved consent for. In the words of these UN colonizers, "Global Environmental Governance". Something the people of the Western Cape province in South Africa is getting to know first hand right now.
So if you ever feel wherever you are in the world, as if your local/national government is not actually working for you, but rather behave in ways that classifies you as the "enemy", consider that your government is committed to an Agenda that was spawned by people who view humanity as its enemy.
This shouldn't be an altogether surprising feeling.
2) The Lucis Trust Association
This is a strange one, and I include it because their involvement with the UN predates the actual Agenda 21 agreement by 3 years, and as they enjoyed "consultant" status, may have had an influence of the final agreement. This thought becomes quite bizarre once you find out what this organization actually is.
The "About" section on the Lucis Trust website states:
"Lucis Trust promotes recognition and practice of the spiritual principles and values upon which a stable and interdependent world society may be based. The esoteric philosophy of its founder, Alice Bailey, informs its activities which are offered freely throughout the world in eight languages."
One of the articles on the Lucis Trust website is titled "The esoteric meaning of Lucifer". I quote a short passage:
"There are comments on the World Wide Web claiming that the Lucis Trust was once called the Lucifer Trust. Such was never the case. However, for a brief period of two or three years in the early 1920's, when Alice and Foster Bailey were beginning to publish the books published under her name, they named their fledgling publishing company "Lucifer Publishing Company". By 1925 the name was changed to Lucis Publishing Company and has remained so ever since."
"The Baileys' reasons for choosing the original name are not known to us, but we can only surmise that they, like the great teacher H.P. Blavatsky, for whom they had enormous respect, sought to elicit a deeper understanding of the sacrifice made by Lucifer. Alice and Foster Bailey were serious students and teachers of Theosophy, a spiritual tradition which views Lucifer as one of the solar Angels, those advanced Beings Who Theosophy says descended (thus "the fall") from Venus to our planet eons ago to bring the principle of mind to what was then animal-man."
Something I deliberately didn't mention earlier: Expanding the "About" section on the website, scrolling down all the way, reveals the following:
"LUCIS TRUST is on the Roster of the United Nations Economic and Social Council"
Yes you read that right, and I'll elaborate on it shortly.
Another thing you will notice under the expanded "About" section, is something most of you have probably heard of, namely "World Good Will". Yes, that is where the UN Goodwill ambassador comes from; it is a Lucis Trust initiative.
The website also states,
"World Goodwill is recognised by the Office of Public Information at the United Nations as a Non-Governmental Organisation. It is represented at regular briefing sessions at the United Nations in New York and Geneva."
Back to the aforementioned United Nations Social and Economic Council involvement; if you go to the website of the United Nations Department of Economic and Social Affairs, ESANGO, and search for Lucis Trust, you will find the Lucis Trust Association listed there, and see that they have had consultive status there (Roster) since 1989. That is 3 years before Agenda 21 Sustainable Development was signed at the Rio Earth Summit.
If you then click on their name, and then the "Profile" tab, and select "Activities" you will see under their "Areas of expertise & Fields of activity", Sustainable Development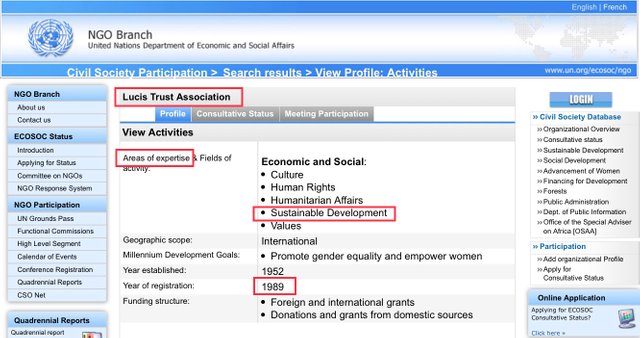 – Yep, the Lucifer-groupie Lucis Trust, has been a consultant for the UN on Sustainable Development since 1989. "Why are they on there? What do they have to do with sustainable development?", you may ask..? Well… I don't know. If you can figure it out (especially after reading their website), please let me know. I have no idea. But it may be worth remembering the next time the ignorant, libtarded radio presenter goes on and on about how great sustainable development is.
Origins
In 1983 the UN asked the Brundtland commission to "propose long term strategies for achieving sustainable development by the year 2000 and beyond"
Gro Harlem Brundtland was former prime minister of Norway, director general of world health organization, and vice president of Socialist International. In 1987 the Brundtland commission released a report titled "Our Common Future", defining Sustainable Development as:
"Development that meets the needs of the present without compromising the ability of future generations to meet their own needs"
In 1992 the UN convened the Earth Summit to formulate policy for the world environmental movement, and produced Agenda 21 – global development policy for the 21st century.
General secretary of the summit, Maurice strong (also a member of the Brundtland commission), in his opening speech stated,
"Current lifestyles and consumption patterns of the affluent middle class, involving high meat intake, use of fossil fuels, appliances, home and work air conditioning and suburban housing, are not sustainable"
The Agenda 21 view on private property can be traced back to the 1976 "Report on Habitat" that came out of the conference on Human Settlements. The section on private land ownership states:
"Land, because of its unique nature and the crucial role it plays in human settlements, cannot be treated as an ordinary asset, controlled by individuals and subject to the pressures and inefficiencies of the market. Private ownership is also a principal instrument of the accumulation and concentration of wealth and therefore contributes to social injustice; if unchecked, it may become a major obstacle in the planning and implementation of development schemes"
The 1996 UN publication, Global Biodiversity Assessment stated:
"Property rights are not absolute and unchanging, but rather a complex, dynamic, and shifting relationship between two or more parties, over space and time"
At the 1992 Earth Summit in Rio de Janeiro Brazil, Agenda 21 was revealed and this 350 page, 40 Chapter document, this global development policy framework agreement, was signed by 178 countries.
The amount of politicians who seeked consent from their citizens to be signed up to this "global governance" program, was zero.
It is strange to me that hardly any people I talk to have ever heard of UN Agenda 21, BUT every person I talk to, have heard of "sustainable development".
Agenda 21 is the GLOBAL action plan for implementing "sustainable development". The two are inseparable.
It is the UN Agenda for the 21st century; The comprehensive action plan to INVENTORY and CONTROL all land, all water, all energy, all minerals, construction, plants, animals, means of production, information, and all human beings in the world.
It is hardly EVER called "Agenda 21" by politicians or media. It is most often referred to by other names such as "sustainable development", "build back better", "Our Common Future", or "high density urban mixed-use development" a.k.a. "Smart Growth", the name for the preferred "development model" under Agenda 21. The World Economic Forum's version is known as "The Great Reset". No matter the label, it's tyranny, complete totalitarianism and subservience disguised as progress, equality, inclusivity and sustainability.
---
---
The World Economic Forum's (WEF) annual meeting at the end of January in Davos, Switzerland, brings together international business and political leaders, economists and other high-profile individuals to discuss global issues. Driven by the vision of its influential CEO Klaus Schwab, the WEF is the main driving force for the dystopian 'great reset', a tectonic shift that intends to change how we live, work and interact with each other.
The great reset entails a transformation of society resulting in permanent restrictions on fundamental liberties and mass surveillance as entire sectors are sacrificed to boost the monopoly and hegemony of pharmaceuticals corporations, high-tech/big data giants, Amazon, Google, major global chains, the digital payments sector, biotech concerns, etc.
Using COVID-19 lockdowns and restrictions to push through this transformation, the great reset is being rolled out under the guise of a 'Fourth Industrial Revolution' in which older enterprises are to be driven to bankruptcy or absorbed into monopolies, effectively shutting down huge sections of the pre-COVID economy. Economies are being 'restructured' and many jobs will be carried out by AI-driven machines.
In a short video showcased on social media, the WEF predicts that by 2030, "You'll own nothing and you'll be happy." A happy smiling face is depicted while a drone delivers a product to a household, no doubt ordered online and packaged by a robot in a giant Amazon warehouse: 'no humans were involved in manufacturing, packaging or delivering this product'; rest assured, it is virus- and bacteria-free – because even in 2030, they will need to keep the fear narrative alive and well to maintain full-spectrum dominance over the population.
The jobless (and there will be many) could be placed on some kind of universal basic income and have their debts (indebtedness and bankruptcy on a massive scale is the deliberate result of lockdowns and restrictions) written off in return for handing their assets to the state or more precisely the financial institutions helping to drive this great reset. The WEF says the public will 'rent' everything they require: stripping the right of ownership under the guise of 'sustainable consumption' and 'saving the planet'. Of course, the tiny elite who rolled out this great reset will own everything.
Hundreds of millions around the world deemed 'surplus to requirements' are to be robbed (are currently being robbed) of their livelihoods. Our every movement and purchase are to be monitored and our main dealings will be online.
The plan for individual citizens could reflect the strategy to be applied to nation states. For instance, World Bank Group President David Malpass has stated that poorer countries will be 'helped' to get back on their feet after the various lockdowns that have been implemented. This 'help' will be on condition that neoliberal reforms and the undermining of public services are implemented and become further embedded.
On 20 April, the Wall Street Journal ran the headline 'IMF, World Bank Face Deluge of Aid Requests From Developing World. Scores of countries are asking for bailouts and loans from financial institutions with $1.2 trillion to lend. An ideal recipe for fuelling dependency.
In return for debt relief or 'support', global conglomerates along with the likes of Bill Gates will be able to further dictate national policies and hollow out the remnants of nation state sovereignty.
Identity and meaning
What will happen to our social and personal identity? Is that to be eradicated in the quest to commodify and standardise human behaviour and everything we do?
The billionaire class who are pushing this agenda think they can own nature and all humans and can control both, whether through geoengineering the atmosphere, for example, genetically modifying soil microbes or doing a better job than nature by producing bio-synthesised fake food in a lab.
They think they can bring history to a close and reinvent the wheel by reshaping what it means to be human. And they think they can achieve this by 2030. It is a cold dystopian vision that wants to eradicate thousands of years of culture, tradition and practices virtually overnight.
And many of those cultures, traditions and practices relate to food and how we produce it and our deep-rooted connections to nature. Consider that many of the ancient rituals and celebrations of our forebears were built around stories and myths that helped them come to terms with some of the most basic issues of existence, from death to rebirth and fertility. These culturally embedded beliefs and practices served to sanctify their practical relationship with nature and its role in sustaining human life.
As agriculture became key to human survival, the planting and harvesting of crops and other seasonal activities associated with food production were central to these customs. Freyfaxi marks the beginning of the harvest in Norse paganism, for example, while Lammas or Lughnasadh is the celebration of the first harvest/grain harvest in Paganism.
Humans celebrated nature and the life it gave birth to. Ancient beliefs and rituals were imbued with hope and renewal and people had a necessary and immediate relationship with the sun, seeds, animals, wind, fire, soil and rain and the changing seasons that nourished and brought life. Our cultural and social relationships with agrarian production and associated deities had a sound practical base.
Prof Robert W Nicholls explains that the cults of Woden and Thor were superimposed on far older and better-rooted beliefs related to the sun and the earth, the crops and the animals and the rotation of the seasons between the light and warmth of summer and the cold and dark of winter.
We need look no further than India to appreciate the important relationship between culture, agriculture and ecology, not least the vital importance of the monsoon and seasonal planting and harvesting. Rural-based beliefs and rituals steeped in nature persist, even among urban Indians. These are bound to traditional knowledge systems where livelihoods, the seasons, food, cooking, processing, seed exchange, healthcare and the passing on of knowledge are all inter-related and form the essence of cultural diversity within India itself.
Although the industrial age resulted in a diminution of the connection between food and the natural environment as people moved to cities, traditional 'food cultures' – the practices, attitudes and beliefs surrounding the production, distribution and consumption of food – still thrive and highlight our ongoing connection to agriculture and nature.
'Hand of god' imperialism
If we go back to the 1950s, it is interesting to note Union Carbide's corporate narrative based on a series of images that depicted the company as a 'hand of god' coming out of the sky to 'solve' some of the issues facing humanity. One of the most famous images is of the hand pouring the firm's agrochemicals on Indian soils as if traditional farming practices were somehow 'backward'.
Despite well-publicised claims to the contrary, this chemical-driven approach did not lead to higher food production according to the paper 'New Histories of the Green Revolution' written by Prof Glenn Stone. However, it has had long-term devastating ecological, social and economic consequences (see Vandana Shiva's book 'The Violence of the Green Revolution' and Bhaskar Save's now famous and highly insightful open letter to Indian officials).
In the book 'Food and Cultural Studies' (Bob Ashley et al), we see how, some years ago, a Coca Cola TV ad campaign sold its product to an audience which associated modernity with a sugary drink and depicted ancient Aboriginal beliefs as harmful, ignorant and outdated. Coke and not rain became the giver of life to the parched. This type of ideology forms part of a wider strategy to discredit traditional cultures and portray them as being deficient and in need of assistance from 'god-like' corporations.
What we are seeing in 2020, is an acceleration of such processes. In terms of food and agriculture, traditional farming in places like India will be under increasing pressure from the big-tech giants and agribusiness to open up to lab-grown food, GMOs, genetically engineered soil microbes, data harvesting tools and drones and other 'disruptive' technologies.
The great reset includes farmerless farms being manned by driverless machines, monitored by drones and doused with chemicals to produce commodity crops from patented GM seeds for industrial 'biomatter' to be processed and constituted into something resembling food. What will happen to the farmers?
Post-COVID, the World Bank talks about helping countries get back on track in return for structural reforms. Are tens of millions of smallholder farmers to be enticed from their land in return for individual debt relief and universal basic income? The displacement of these farmers and the subsequent destruction of rural communities and their cultures was something the Gates Foundation once called for and cynically termed "land mobility".
Cut through the euphemisms and it is clear that Bill Gates – and the other incredibly rich individuals behind the great reset – is an old-fashioned colonialist who supports the time-honoured dispossessive strategies of imperialism, whether this involves mining, appropriating and commodifying farmer knowledge, accelerating the transfer of research and seeds to corporations or facilitating intellectual property piracy and seed monopolies created through IP laws and seed regulations.
In places like India – still an agrarian-based society – will the land of these already (prior to COVID) heavily indebted farmers then be handed over to the tech giants, the financial institutions and global agribusiness to churn out their high-tech, data-driven GM industrial sludge? Is this part of the 'own nothing, be happy' bland brave new world being promoted by the WEF?
With the link completely severed between food production, nature and culturally embedded beliefs that give meaning and expression to life, we will be left with the individual human who exists on lab-based food, who is reliant on income from the state and who is stripped of satisfying productive endeavour and genuine self-fulfilment.
Technocratic meddling has already destroyed or undermined cultural diversity, meaningful social connections and agrarian ecosystems that draw on centuries of traditional knowledge and are increasingly recognised as valid approaches to secure food security (for example, see 'Food Security and Traditional Knowledge in India' in the Journal of South Asian Studies). The massive technocratic transformation currently envisaged regards humans as commodities to be controlled and monitored just like the lifeless technological drones and AI being promoted.
But do not worry – you will be property-less and happy in your open prison of mass unemployment, state dependency, track and chip health passports, cashlessness, mass vaccination and dehumanisation.
Colin Todhunter is an independent writer
---
The Global Reset (Pt. 1)
Stage One: Trade War against China
On January 30, 2020 the WHO Director General determined that the coronavirus outbreak constitutes a Public Health Emergency of International Concern (PHEIC). The decision was taken on the basis of 150 confirmed cases outside China, and first cases of person to person transmission: 6 cases in the US, 3 cases in Canada, 2 in the UK.
The decision for the WHO to declare a Global Emergency was taken on the sidelines of the World Economic Forum (WEF) in Davos, Switzerland (January 21-24).
One day later (January 31) following the launch of the WHO Global Emergency, The Trump administration announced that it will deny entry to foreign nationals "who have traveled in China in the last 14 days". This immediately triggered a crisis in air transportation; China-US trade and the tourism industry. Italy followed suit, cancelling all flights to China on January 31.
The first stage was accompanied by the disruption of trade relations with China as well as a partial closedown of the export manufacturing sector.
Stage Two: The Financial Crash Spearheaded by Fear and Stock Market Manipulation
A global financial crisis unfolded in the course of the month of February culminating in a dramatic collapse of stock market values as well as a major decline in the value of crude oil.
This collapse was manipulated. It was the object of insider trading and foreknowledge. The fear campaign played a key role in the implementation of the stock market crash. In February, roughly $6 trillion have been wiped off the value of stock markets worldwide. Massive losses of personal savings have occurred not to mention corporate failures and bankruptcies. It was a bonanza for institutional speculators including corporate hedge funds. The financial meltdown has led to sizeable transfers of money wealth into the pockets of a handful of financial institutions.
Stage Three: Lockdown, Confinement, Closing Down of the Global Economy
The financial crash in February was immediately followed by the lockdown in early March. The lockdown and confinement supported by social engineering was instrumental in the restructuring of the global economy. Applied almost simultaneously in a large number of countries, the lockdown has triggered the closing down of the national economy, coupled with the destabilization of trade, transport and investment activities.
The pandemic constitutes an act of economic warfare against humanity which has resulted in global poverty and mass unemployment.
Politicians are lying. Neither the lockdown nor the closing down of national economies constitute a solution to the public health crisis.
Who Controls the Politicians?
Why are politicians lying? They are the political instruments of the financial establishment. Their task is to carry out the global economic restructuring project which consists in freezing economic activity worldwide. In all major regions of the World, politicians have been instructed by powerful financial interests to retain the lockdown and prevent the re-opening of the national economy.
The fear campaign prevails. Social distancing is enforced. The economy is closed down. Totalitarian measures are being imposed.
The "Herding Instincts" of Politicians
Are corrupt governments acting like "police dogs" with "herding instincts" going after their sheep?
Is "the herd" too scared to go after their "government"?
But there is another dimension. Politicians in high office responsible for "convincing their herd" actually believe the lies which are being imposed upon them by higher authority. The lie becomes the truth. Politicians endorse the consensus, they enforce "social engineering", they believe in their own lies.
It's Not an Epidemic, it is An Operation
US Secretary of State Mike Pompeo (slip of the tongue) tacitly admits in a somewhat contradictory statement that COVID-19 is a "Live Exercise", an "Operation": "This is not about retribution… This matter is going forward — we are in a live exercise here to get this right."
To which president Trump retorted "you should have told us".
Those words will go down in history.
Imagine you are living in a world that you are told is a democracy – and you may even believe it – but in fact your life and fate is in the hands of a few ultra-rich, ultra-powerful and ultra-inhuman oligarchs. They may be called Deep State, or anything else obscure or untraceable – it doesn't matter. They are less than the 0.0001%.
For lack of a better expression, let's call them for now "The Two Families". The two families have, over the decades, created a "Network of Power"- which contains within it a collection of banks, central banks, corporations, think tanks, foundations and various multi-lateral entities. These two families are the Rockefeller and Rothschild families. The Rockefeller family is based in New York, and the Rothschild family is based in London. Each family has many other super-rich families allied to it. This alliance of families, along with its associated companies, banks, and entities is called a "Network of Power". Each network of power has a leadership, and this leadership is headed by the wealthiest and most powerful family – either the Rothschild or the Rockefeller family. These two families make the policy, and the rest of the group follows this.
Now, the most talented individuals in each network are promoted to higher positions of authority and influence, becoming heads of companies, banks, foundations, etc. It is THIS GROUP THAT IS CALLED THE DEEP STATE.
These "Two Families" who run our world have never been elected. They have created structures, or organisms without any legal format. They are fully out of international legality – A New or One World Order (NWO, or OWO).
These obscure individuals are running, for example, The World Economic Forum (WEF – representing Big Industry, Big Finance and Big Fame), the Group of 7 – G7, the Group of 20 – G20 (the leaders of the economically strongest nations). There are also some lesser entities, called the Bilderberg Society, the Council on Foreign Relations (CFR), Chatham House and more.
The members of all of them are overlapping. Even this expanded forefront combined represents less than 0.001%. They all have superimposed themselves over sovereign national elected and constitutional governments, and over THE multinational world body, the United Nations, the UN.
In fact, the Rockefellers (namely Nelson) have created the UN to do their bidding. UN Director Generals, as well as the DGs of the multiple UN-sub-organizations, are chosen mostly by the US, with the consenting nod of their European vassals – according to the candidate's political and psychological profile. If his or her 'performance' as head of the UN or head of one of the UN sub-organizations fails, his or her days are counted. Also coopted or created by the Two Families are the European Union, the Bretton Woods Organizations, World Bank and IMF, as well as the World Trade Organization (WTO).
In addition to the key international financial institutions, WB and IMF, there are the so-called regional development banks and similar financial institutions, keeping the countries of their respective regions in check. In the end it's the financial or debt-economy that controls everything. Western neoliberal banditry has created a system, where political disobedience can be punished by economic oppression or outright theft of national assets in international territories. The system's common denominator is the (still) omnipresent US-dollar.
We have become enslaved to the two Families. They call the shots on boom or bust of our economies, on who should be shackled by debt, when and where a pandemic should break out, and on the conditions of surviving the pandemic, for example, social confinement. And to top it all off – the instruments they use, very cleverly, are a tiny-tiny invisible enemy, called a virus, and a huge but also invisible monster, called FEAR. That keeps us off the street, off reunions with our friends, and off our social entertainment, theatre, sports, or a picnic in the park.
Soon they will decide who will live and who will die, literally – if we let it. This may be not far away. Another wave of pandemic and people may beg, yell and scream for a vaccine, for their death knell, and for the super bonanza of Big Pharma – and towards the objectives of the eugenicists blatantly roaming the world .Take the latest case of blatant imposture. Conveniently, after the first wave of Covid-19 had passed, at least in the Global North, where the major world decisions are made, the unelected WEF Chairman, Klaus Schwab, announced "The Great Reset". Taking advantage of the economic collapse – the crisis shock, as in "The Shock Doctrine" – Mr. Schwab, announces openly what the WEF will discuss and decide for the world – to come in their next Davos Forum in January 2021.It will focus on how to rebuild the willfully destroyed global economy.
Among many similar globalist states, The British government is a public-private partnership between government, financial institutions, multinational corporations, global think tanks, and well-funded third sector organisations, such as so called non-governmental organisations (NGO's) and large international charities. The British government is a division of the Rothschild Empire. Through a labyrinthine structure of direct funding, grant making and philanthropy, the British government is a cohesive globalist organisation that works with selected academics, scientific institutions and mainstream media (MSM) outlets to advance a tightly controlled, predetermined narrative. This designed consensus serves the interests and global ambitions of the two families- and its Network of Power aka The Deep State.
In the councils of government, we must guard against the acquisition of unwarranted influence, whether sought or unsought, by the military-industrial complex. The potential for the disastrous rise of misplaced power exists, and will persist. (President Dwight D. Eisenhower, January 17, 1961)
This group of parasites, often misleadingly referred to as the "elite," exploit all humanity for their own gain and to consolidate and enhance their power. They control the money supply and the global debt, which is a debt owed to them.
Human beings are forced to pay tax which, via government procurement, flows directly to the private corporations they own. War, security, infrastructure projects, education and health care provide profits and are used by the parasite class to socially engineer society. Globally, they fund all political parties, with any realistic chance of gaining power, they own the MSM and spend billions lobbying policy makers. Through think tanks and the actions of "independent" political activists, they directly fund political campaigns in exchange for the politician's loyalty to them, not to the electorate. Through their tax exempt grant making foundations, they control the scientific, medical and academic orthodoxy.
"Global Governance"
A new stage in the evolution of global capitalism is unfolding. A system of "Global Governance" controlled by powerful financial interests including corporate foundations and Washington think tanks oversees decision-making at both the national and global levels. National governments become subordinate to "Global Governance". The concept of World Government was raised by the late David Rockefeller at the Bilderberger Meeting in Baden Germany, June 1991:
"Some even believe we are part of a secret cabal working against the best interests of the United States, characterizing my family and me as 'internationalists' and of conspiring with others around the world to build a more integrated global political and economic structure, one world if you will. If that is the charge, I stand guilty, and I am proud of it."
Rockefeller Foundation's Operation Lockstep: 'Under the Guise of a Pandemic, We Will Create a Prison State".
Right from the horse's mouth, and is it not right now looking just like a police state?
In other countries they are being arrested (Australia) for peacefully protesting (Canada). Folk are now required to leave their personal contact details if they shop anywhere leaving them open for further visits by Police (if you happened to have been in contact with an infected person even when neither of you knew) and Police are now allowed to enter your premises without a search warrant. All of course in the name of your safety & happening elsewhere as we speak. And based on a crisis that has a death rate of 0.2%, no worse than seasonal flu. This all changed in NZ when draconian laws got passed with nary a protest from anybody except one sole MP.
These people have made no secret of their plans. They're right there in plain sight if you want to look. The scenario of martial law is described in a futuristic manner in this Rockefeller Foundation document, as a scenario that's already happened:
"One important — and novel — component of our strategy toolkit is scenario planning, a process of creating narratives about the future based on factors likely to affect a particular set of challenges and opportunities".
From the Foundation's statement of purpose: "The Rockefeller Foundation supports work that expands opportunity and strengthens resilience to social, economic, health, and environmental challenges — affirming its pioneering philanthropic mission, since 1913, to "promote the well-being" of humanity."
Now interestingly, 1913 is the year they passed the Federal Reserve Act & heisted the Federal Reserve which is their private corporation and not a sate banking system… their statement would be better worded "promote the well-being of we the bankers". In 1913, a Senator, Nelson Aldrich, maternal grandfather to the Rockefellers, pushed the Federal Reserve Act through Congress just before Christmas when much of Congress was on vacation.
This global network of oligarchs is moving towards the final stages of its long held plan to construct a single global system of governance. Often referred to as the New World Order (NWO), it is a collaboration between supranational political organisations, like the United Nations and the European Union, controlled scientific authorities, such as the Intergovernmental Panel on Climate Change (IPCC) and the World Health Organisation (WHO), global financial institutions, including the World Bank, IMF, ECB and Bank for International settlements (BIS), globalist organisations like the World Economic Forum (WEF), NGO's like the World Wildlife Fund (WWF) and policy making thinks tanks such as the Council on Foreign Relations (CFR), Club of Rome and the Trilateral Commission.
London and the British Empire (aka the Rothschild Empire) is one prominent tentacle of the emerging global governance system. It has capitalised on the COVID 19 crisis to create the conditions for a new global economic and political model. While COVID 19 appears to be a nasty strain of the common coronavirus, New York and London has spun a fake narrative about the disease to further the interests of its globalist, oligarch masters. Managing a response to a pandemic is merely the deceptive justification for the planned re-engineering of society.
In partnership with Johns Hopkins Center for Health Security and the BMGF, the WEF were chief architects of Events 201 which plotted, in quite precise detail, the global lockdown and the world's media response to a global coronavirus pandemic. Event 201 was staged merely a matter of months before a global coronavirus pandemic broke out. Both the government lockdown and MSM response have proceeded exactly as they predicted. Do note that the three entities named above are all within the Rockefeller orbit. This whole pandemic, or should we say, "scamdemic" is a Rockefeller operation and NOT a Rothschild operation. But, the Rothschild Empire has gleefully jumped at this opportunity to bring about changes in the economic, social, political and financial world of those countries that fall within their control. It is remarkable that there are still so many who accuse any who point to this long standing New World Order plan, extensively documented and spoken about by political leaders for generations, of being so called conspiracy theorists. One wonders if these people can read.
Referencing the COVID 19 opportunities, one of the founders, and current executive chairman, of the WEF Klaus Schwab recently wrote:
A sharp economic downturn has already begun, and we could be facing the worst depression since the 1930s. But, while this outcome is likely, it is not unavoidable. To achieve a better outcome, the world must act jointly and swiftly to revamp all aspects of our societies and economies, from education to social contracts and working conditions. Every country, from the United States to China, must participate, and every industry, from oil and gas to tech, must be transformed. In short, we need a "Great Reset" of capitalism.
Capitalism requires a reset because the model of closed shop crony capitalism, operated by the global parasite class for centuries, has reached the limits of growth. Therefore they need to create a new economic paradigm ( the Great Reset) both to further centralise and consolidate their power and to fix their failing business model.
Mind you, it's all connected. There are no coincidences. The infamous Agenda 2021 which coincides with and complements the so-called (UN) Agenda 2030, will be duly inaugurated by the WEF's official declaration of The Great Reset, in January 2021. Similarly, the implementation of the agenda of The Great Reset began in January 2020 with the launch of the corona pandemic, which has been planned for decades with the latest visible events being the 2010 Rockefeller Report with its "Lockstep Scenario", and Event 201 held in NYC which computer-simulated a corona pandemic.
The Great Reset, as announced by WEF's Klaus Schwab, is supposedly implemented by Agenda ID2020. It is more than meets the eye. Following the official path of the UN Agenda 2030, the 'implementing' Agenda ID2020 – which is currently being tested on school children in Bangladesh – will provide digitized IDs possibly in the form of Nano-chips implanted along with compulsory vaccination programs, will promote digitization of money and the rolling out of 5G – which would be needed to upload and monitor personal data on the Nano-chips and to control the populace. Agenda ID2020 will most likely also include 'programs' – through vaccination – of significantly reducing world population. Eugenics is an important component in the control of future world population under a NOW / OWO.
The ruling elite used the lockdown as an instrument to carry out this agenda. Its implementation would naturally face massive protests, organized and funded along the same lines as were the BLM protests and demonstrations. They may not be peaceful – and may not be planned as being peaceful. Because to control the population in the US and in Europe, where most of the civil unrest would be expected, a total militarization of the people is required. This is well under preparation. The WEF-masters are confronted with a real dilemma. Their plan depends very much on the dollar supremacy which would continue to allow dishing out sanctions and confiscating assets from those countries opposing US rule; a dollar-hegemony which would allow imposing the components of The Great Reset scheme, as described above.
A Breakdown of 'The Great Reset' and The New World Economic Order
One of the main themes of the article was the WEF's 'Strategic Intelligence Platform', which the organisation describe as 'a dynamic system of contextual intelligence that enables users to trace relationships and interdependencies between issues, supporting more informed decision-making'. When you look into Strategic Intelligence, one aspect to it that quickly becomes apparent is how each global issue and industry intertwines with one another.
So it is little surprise then that the WEF have devised through their Strategic Intelligence platform 'The Great Reset'. What this entails are the seven leading objectives for achieving the reset.
In no particular order these are:
Shaping the Economic Recovery
Harnessing the Fourth Industrial Revolution
Strengthening Regional Development
Revitalizing Global Cooperation
Developing Sustainable Business Models
Restoring the Health of the Environment
Redesigning Social Contracts, Skills and Jobs
Added to this is a mix of global issues and industries woven into 'The Great Reset' agenda.
As mentioned, all these subjects intermix throughout Strategic Intelligence. The distinction comes in the fact that the World Economic Forum have identified 'The Great Reset' as the one issue that can bind all these other areas of concern together to try and bring about an economic and societal 'New World Order'.
So much so that when announcing the initiative in June, the WEF confirmed that the reset will be the theme of its annual Davos meeting in Switzerland come January 2021. In previous years the WEF have only published details of an upcoming theme a few weeks before the meeting takes place. This time, however, they have given over six months' notice, which suggests the level of significance that the WEF have placed on 'The Great Reset'. Having ascertained the seven main objectives and the plethora of industries and issues tied to them; let's now get a sense of the motivations behind the reset from those who are calling for it.
As many are aware, using crisis as an opportunity to bring about major economic and societal change is a notorious strategy of global planners. And every so often some of those planners suggest as much. The Prince of Wales, who fully endorses the Great Reset, said that 'unprecedented shockwaves of crisis may make people more receptive to bigger visions of change'. When the Great Reset agenda was unveiled, one of the other leading proponents was IMF Managing Director Kristalina Georgieva. She declared it of 'paramount importance' that a future return to economic growth must encompass a 'greener, smarter and fairer world'. There is no need to wait, said Georgieva. The world must act now.
One of the most important takeaways from Georgieva's intervention was her admission that 'the digital economy is the big winner of this crisis'. We have seen this already through the exponential growth in central banks discussing the issuance of their own digital currencies and using Covid-19 as a reason to reinforce calls for a new global economic 'architecture'. The unproven fear of cash being a transmitter of the virus, along with people relying on contactless payments and online transactions, has no doubt contributed to her outlook.
The implication is that without a vaccine the world will be unable to return to any sense of normality, particularly in terms of open interaction with your fellow man. Only with a vaccine and supplementary treatments can there be a 'fully fledged recovery'.
All over the Western world ever since 9/11 there have been incremental steps towards what many liberty advocates would call a "police state"; a system in which governments are no longer restricted by the boundaries of civil liberties and are given the power to do just about anything they want in the name of public safety.
In countries like Australia, which claim to value Western democratic principles of liberty and rule by the people, the perception is that civil rights are codified into the legal framework just as they are in the US.
However, there are some glaring differences and issues; specifically, Australian citizens (like many European citizens) have absolutely no means to compel their government or the elites that influence their government to limit themselves.
It is these nations, in which the populations have been mostly disarmed and pacified, that any agenda for tyranny will first be established. But we will get to that in a moment. Make no mistake, there is a very OPEN and easily identifiable agenda on the part of globalists to establish a heavily centralized police state system in every country they are able. This is not "conspiracy theory", this is conspiracy fact.
For many years now there have been numerous analysts, economists and geopolitical experts in the alternative media that have predicted and warned the public about the globalist strategy of "order out of chaos". In other words, the ultra-wealthy power brokers that hold influence over most governments on Earth seek to "reshape" the existing social order through the creation of crisis and disaster. By engineering public desperation, they hope to lure us into accepting restrictions on our freedoms that we would have never considered otherwise. The goal of a single global economy and government has been spoken of by elites time and time again, yet it is still to this day called "conspiracy theory" or "paranoid delusion".
Scientific Study: 'Conspiracy Theorists' Are the Sanest Of All
I could quote these elites and their organizations all day long, but I'll cite a few choice statements to make my point.
As former Deputy Secretary of State under Clinton and Council on Foreign Relations member Strobe Talbot wrote in an article for Time Magazine in 1992 titled 'America Abroad: The Birth Of The Global Nation': In the next century, nations as we know it will be obsolete; all states will recognize a single, global authority. National sovereignty wasn't such a great idea after all.
And how about one of my favorite revealing quotes from Trilateral Commission member Richard N. Gardner, former deputy assistant Secretary of State for International Organizations under Kennedy and Johnson. He wrote in the April, 1974 issue of the Council on Foreign Relation's (CFR) journal Foreign Affairs (pg. 558) in an article titled 'The Hard Road to World Order': "In short, the 'house of world order' will have to be built from the bottom up rather than from the top down. It will look like a great 'booming, buzzing confusion,' but an end run around national sovereignty, eroding it piece by piece, will accomplish much more than the old-fashioned frontal assault."
Members of globalist foundations and think-tanks like the CFR have inhabited nearly every US government office and presidential cabinet for the past several decades. This includes the two dozen or so CFR members in Donald Trump's cabinet. Draining the swamp? Not going to happen.
The easiest method for the globalists to get what they openly say they want is to either conjure a crisis or exploit an existing crisis in order to "erode sovereignty". The current pandemic fits this plan perfectly, but before sovereignty can be eliminated on a national level they need to undermine sovereignty on an individual level first.
Check out Sam Parker over at: https://behind-the-news.com/
The Global Reset (Pt. 2)
Actions within the US and nations allied to the US suggest an accelerated attack on personal liberties is at hand. There are sister foundations to the CFR in many other countries.
For example, in Australia they have the highly embedded and influential Strategic Policy Institute, which has been consistently advocating for complete centralization of government power in the wake of the coronavirus pandemic.
Their stated plan is to concentrate policy administration in the hands of a new "commission" or "department" made up of the "brightest minds". This commission would not be tasked with getting Australia back to normal, but convincing the public to ACCEPT the "new normal" beyond the pandemic.
The ASPI enthusiastically heralds the idea in an article titled 'Coronavirus Response A Chance To Reimagine Future For Australia':
"The agenda of such a department now is not about getting Australia back to normal after the pandemic. It's about re-imagining what Australia can be and how we can thrive and prosper in our future beyond the coronavirus and in light of drought, bushfires and climate change. "Think about the kind of new economy we can have after the forced, rapid adoption of dispersed home working and schooling through digital means. We can be the leading digital economy the prime minister desired before the pandemic, not by 2030 but much earlier."
This reminds me immediately of the post 9/11 push to rapidly remove constitutional protections while the public was blinded by fear and confusion. As US globalist Rahm Emanuel would say: "You never want a serious crisis to go to waste. And what I mean by that is an opportunity to do things that you think you could not do before."
The ASPI reveals the true agenda, which is the complete federalization and unilateral implementation of law without public approval. The plan is to do this by exploiting the pandemic event to its full potential and then applying the rapid societal changes in government structure. This will then be carried on long after the coronavirus disappears in the name of the economy, welfare programs and so-called "global warming". The pandemic response is just a means to an end, and the end fame is total dominance of the population.
Australia Is A Full Scale Pilot Test for The New World Order
Several journalists and content creators have noticed that Australia looks like the most totalitarian police state that has existed in recent history. It has become a full-scale pilot test for the elitists to see how well they can implement the New World Order.
I focus on Australia and the surrounding regions in particular because this seems to be the place where globalists are enforcing technocratic policies first. Or at the very least, they are test-running their strategy and using Australians as guinea pigs.
When the ASPI says they plan to keep the pandemic changes in place well after the virus is gone, they aren't just talking about shifting into a digital economy.
Right now in the Western World, Australia and New Zealand are slamming citizens with perhaps the most draconian measures yet. These are policies that the elites want to introduce everywhere, but they are going full bore in Australia, and it just keeps getting worse.
In various areas of Australia "Level 4" response measures have been enforced for at least the next six weeks, including curfews, strict mask policies including people being forced to wear masks OUTSIDE . Residents are not allowed to travel more than 3 miles from their homes and only one person from a household is allowed to leave at any given time.
Citizens violating these rules are subject to $10,000 fines or arrest. And, yes, people are being arrested simply for not wearing mask or being too far from home.
In New Zealand, the situation has become worse. While Australia has been using quarantine facilities to force people considered high risk to isolate, NZ quarantine camps are now fully under the control of the military, and ALL citizens who test positive or are suspected to have Covid can be separated from their families and placed in the camps, which are hotels converted into prisons.
It is the complete erasure of personal liberties all because of an increase in cases which has amounted to a mere 525 deaths in Australia and 22 deaths in New Zealand.
The elitists are using Australia to test out these authoritarian measures, such as getting the public used to a police state in which the military and police both patrol the streets ready to commit violence against other humans for refusing to quarantine when not sick or not wearing their New World Order issued face mask.
"These guys know full well what they are doing. They are psychopaths, but they aren't stupid. The politicians are redistributing both wealth and power away from the public and consolidating it into their own hands.
We are in big trouble if we cannot get the military and the police who are committing violence on behalf of the tyrants to realize what they are doing to humanity. All of this is over 17 new cases of COVID-19. This absolutely horrifying that people continue to buy this scam. "Heavy-handed tyranny and oppression is happening everywhere," If you don't think this is coming to the United States or in your own country in the form of a second lockdown, think again.
The media has been preparing us for a "dark winter" and a "second wave" since the first false wave happened. Don't' live a life terrified (they enslave you with your fear), but make sure you know what's going on. The best preparedness plan includes one of awareness of this situation we've found ourselves in today.
I believe the reason Australia and New Zealand have been targeted with this level of restrictions first is because they have been almost fully disarmed and have no means to defend themselves from government overstep. Another important point to note here is that both Australia and New Zealand are countries that are within the Rothschild orbit. Along with another Rothschild country, Israel, we find the highest levels of government heavy – handedness in imposing hard lockdowns. Why are the Rothschilds imposing such heavy lockdowns in their countries? The UK is also about to enter a period of harder lockdowns. Is it because Britain and the Rothschilds need to show New York that they are so obedient? Or is it because of Brexit and the impending peace deals in the Middle East between Israel and some Arab countries?
That said; I see signs that similar measures will be attempted in the US as well.
In states like New York, there are low-key programs to set up Covid checkpoints stopping and checking vehicles coming into the state. This is where heavier restrictions start. First, checkpoints will be established in the name of keeping infected people out of a state or city. Then, those same checkpoints will be used to keep people from leaving a state or city. Then, checkpoints will be set up at random to test people for fever or symptoms of illness. If allowed to continue, the natural progression of checkpoints is to terrify the population into not traveling anywhere for any reason.
Like in Australia and NZ, people will effectively be imprisoned in their homes. At this stage, bringing in laws or executive orders punishing people for leaving home will be easier; they will have already acclimated to being trapped at home anyway.
Furthermore, elites and globalists within the US are calling for hard lockdowns for at least six weeks, just like the Level 4 lockdowns in Australia. Federal Reserve member Neel Kashkari recently asserted that Americans are saving more, thus they should be subjected to hard lockdowns "because they can afford it".
Virginia is planning mandatory Covid vaccinations, even though vaccines for SARS like viruses have proven impossible to develop in the past, and rushed vaccines have a history of harming or killing people rather than protecting them. Set aside the issue that giving government the power to force citizens to inject anything into their bodies is immoral.
What's next – Covid camps? Well, yes, unless Americans make a hard stand. Mainstream media outlets have been suggesting this strategy for months. The Washington Post applauded the use of forced isolation camps in other nations and asks why the US has not yet used them beyond ports for foreign travelers?
The reason is this: Many Americans will not go along with such measures, and will use force (in-kind) against anyone trying to lock them up because of a virus that is a moderate threat at most to a small percentage of the population. That said; don't assume that the establishment will not eventually try it here. They will. Be ready when they do so. Look to the actions in places like Australia and NZ and ask yourself, am I willing to go along with that? And if so, for how long?
Following the 2008 banking collapse, while the people were forced to suffer austerity to bail out the banks with a form of highly selective crony socialism, the parasite class simply carried on piling up the debt. In the Basel Capital Accords III, supposedly designed to stop the wild market speculations of banks which caused the collapse, they effectively reduced the liquidity (capital reserve) requirements for banks, allowing them to lend even more.
This process of allowing banks to create FIAT currency out of nothing has inevitably led to a global debt of approximately $260 trillion, which is more than three times the size of the planets GDP.
However, this is small potatoes compared to the scale of the financial products derivatives market. Estimated to be somewhere between $600 trillion to more than $1 quadrillion. While some say this is only the notional amount of the debt tied up in derivative contracts, the fact remains this is all debt.
Cumulatively, there isn't enough productivity on Earth even to service the interest on these debts, let alone pay them. Ultimately this is debt owed to the two families who control the world's system of central banks. It is a Mickey Mouse system allowing monopolists to seize assets using their own funny money.
While the power to create all FIAT currency, out of nothing but debt creation, has afforded them immense economic and political control, 2008 demonstrated that their usury fraud can, and certainly will, collapse. Hence the Great Reset. Responding to a pandemic, or saving lives, has nothing to do with it. The process of transition, laid out by the WEF as the Great Reset, builds upon the sustainable development goals of the U.N's Agenda 2030. Founded upon the generational eugenicist ideology of the Rockefeller family, the new global governance system will be a technocracy.
While Technocracy, rule by technocrats appointed or elected for their particular expertise, may sound appealing to some, the model proposed relies upon the destruction of nations states to be replaced by a distant global technocratic order that serves only the interests of its founding oligarchs and financial benefactors.
This technocratic system was outlined in 1974 by former US ambassador Richard N. Gardner, member of the CFR and the Trilateral Commission, in his article The Hard Road to World Order:
"Never has there been such widespread recognition by the world's intellectual leadership of the necessity for cooperation and planning on a truly global basis. Never has there been such an extraordinary growth in the constructive potential of transnational private organizations – not just multinational corporations but international associations of every kind in which like-minded persons around the world weave effective patterns of global action."
The global COVID 19 crisis is a catalysing event which has been misused to bring about the Great Reset. In order to convince the people to comply with their orders, governments and the media has inculcated the population into a state of fear. In other circumstances this would have been impossible without significant revolt. Terrorising the public was essential to convince them to believe that the State had to remove all their rights and freedoms in order to keep them safe.
Initially deceiving the public that the "emergency measures" would be temporary, further behaviour modification was then used to force people to comply with a lengthening list of totalitarian regulations. The objective was to move people towards passively accepting the dictatorship of a surveillance state re-branded as "the new normal." Thus far, it appears most people have been sufficiently frightened to meekly accept their enslavement. Throughout the Great Reset transition, the public face of the globalist project has been Bill Gates. However, while Gates has used his wealth to seize control of global public health policy, he is just the current front man for the Rockefeller Empire. It is the technological possibilities presented by the 4th Industrial Revolution which the architects of the world order are capitalising upon.
For example, while there is no evidence that COVID 19 can be spread by handling cash, the MSM have repeatedly floated the idea.
Pilot schemes, such as the BMGF backed West African Wellness Pass, are already underway. By linking biometric identification, along the lines of the BMGF funded, Rockefeller and U.N backed ID 2020, with cashless payment systems, all transactions can be centrally controlled in the rapidly approaching cashless society.
When your biometric identity includes your vaccine immunity status, there will be no necessity to legislate to make vaccines "compulsory." Thus avoiding any contentious public debate. As long as you fully comply with your orders, you will be allowed controlled access to social and economic activity.
Systems like immunity passport and vaccine certificates will be used to control freedom of movement, the right to work and to access services and the community. As described by Rockefeller's New World Order spokesman Bill Gates: Eventually we will have some digital certificates to show who has recovered or been tested recently or when we have a vaccine who has received it."
While vaccines may not be compulsory you won't realistically be able to participate in society, employment, run a business or receive benefits, without the appropriate vaccine or immunity status.
The BMGF have already invested more than $21 million in an MIT project to create a microneedle vaccine delivery system that will inject a reactive die under the recipient's skin which can then be scanned by a reader. This pattern will act like an indelible bar code tattoo, enabling the global authorities to monitor and control your whereabouts and behaviour.
Having complete control over the testing and attribution of disease status affords the Biosecurity State the power to potentially remove and detain its political enemies and dissenters without trial.
This quarantine policy in New Zealand, Australia and Israel is designed to maintain the level of fear and accustom the population to dictatorship. It also appears to be a provocation that may encourage insurrection and revolt. With a monopoly on violence and the use of force, violent uprisings invariably benefit the Authoritarian State. It allows them to claim legitimacy for an even more oppressive "crack down."
Thus far, the global response to COVID 19 has deviated little from the Rockefeller's suggested Lockstep scenario in their 2010 report Scenarios for the Future of Technology and International Development.
While New Zealand is the first nominally democratic state to raid family homes and remove people by force, it certainly won't be the last.
World economic activity will be administered by biosecurity States and based upon sustainable development goals. This new, centrally planned, global economy will be restricted only to permitted businesses. Prior to his departure as governor of the Bank of England, in lockstep with the Great Reset, Mark Carney warned that companies that don't follow the correct sustainability policies "will go bankrupt without question." In other words, lines of credit, without which business cannot hope to function, will be limited only to those who adopt the approved polices.
This new economy will have very limited employment. Carney's successor Andrew Bailey has already stated that it would be important not to keep people in "unproductive jobs" and that job losses, as a result of the COVID 19 crisis, were inevitable.
The preposterous spin of the bankers and carefully chosen economists that western economies will simply bounce back from an unprecedented 20% drop in GDP is absurd. With official unemployment more than doubling in a single year, these numbers are merely the tip of a very large, looming iceberg.
This will, as ever, disproportionately impact the lowest paid, with analysis suggesting that more than 50% of those at risk of unemployment are already in jobs paying less than $20 per hour.
These are the unproductive jobs and livelihoods Bailey wants to get rid of. Across Europe and the Americas staggering levels of unemployment are seemingly unavoidable. With the same pattern common to many developed nations, the social, economic and health impacts of this are almost beyond comprehension. Many have long been warning that the toll taken by the Lockdown response to the supposed COVID 19 pandemic will be far worse than the disease itself. This awful prospect is becoming increasingly apparent.
It is important to recognise that the global lockdown response was a political choice made to create the economic condition for the Great Reset. It was not unavoidable, and there is no evidence that lockdowns make any difference to COVID 19 mortality. South Korea, Japan and Sweden did not impose full lockdowns and all have better COVID 19 outcomes that the UK or the US.
This is the price we will all pay for the two familys' determination to bring about the Great Reset and change the world's economy and society to one centrally planned and controlled absolutely by them. They are currently spending billions globally on propaganda to convince us to accept their "new normal." They require our consent if their plans are going to work. This means, in order to scupper them, all we need to do is refuse to comply. While peaceful protest is an important unifying right, ultimately it is what we do every day that will make the difference. Yet all we need to do in order to defeat it is refuse, en masse, to follow its orders.
Unfortunately, many governments are among those throwing everything at convincing us to believe their frankly ridiculous, scientifically illiterate, COVID 19 propaganda narrative. We only need wander to the local supermarket and witness the faceless, muzzled majority to know the deception is working.
We are faced with an existential choice. We can either give up any childish pretensions that we live in a free and open democratic society that values liberty and plurality of opinion, and accept the fascist dictatorial rule of a global technocratic parasite, or we can exercise conscious resistance and refuse to comply with the orders of the State.
While Lockdown policies originate at a global level, by looking at how governments have implemented them, and the deception they have used to convince the public to accept them, the true nature of the scamdemic can be revealed.
The 'Great Reset' Is Coming Like A Bullet Train
Indeed, no industry or business will be able to avoid the impact of the changes ahead. Either they adapt to fit in with the Great Reset agenda (assuming they have the resources to do so), or they will not survive.
It is your smaller companies and independent run businesses that are faced with ruin, opening the door to a new era of mergers and acquisitions that will further erode consumer choice and competition.
Global media coverage of Covid-19 has characterised it as a deadly virus that kills with impunity, and without the antidote of a vaccine could devour communities whole. They admit that Covid-19 is 'one of the least deadly pandemics in the last 2000 years', and barring something unforeseen 'the consequences of the virus will be mild compared to previous pandemics.'
WHO said that Covid-19 'does not constitute an existential threat or a shock that will leave its imprint on the world's population for decades'. The truth of the matter is that it is the measures imposed in the name of Covid-19 that have caused widespread economic destruction, not the virus itself. That distinction is one that mainstream outlets in particular refuse to engage with. It is the old cliché of dominoes falling. Once one falters it sets off a chain reaction, which was evidenced back in 2008 when Lehman Brothers collapsed. The scale of change that globalists are calling for through the vehicle of a Great Reset, which by definition is global in nature, will require the implosion of the current world order to lay the foundations for a new world order. The old must make way for the new. And the one method for how that could be achieved is through increased kickback against interdependence. Sustained crises offer many opportunities for global planners.
The potential for a contested U.S. election, an upcoming no deal Brexit and warnings of 'vaccine nationalism' are three eventualities that if brought to bear could be exploited and used to advance the cause for a Great Reset. I would say that the further the world appears from collaboration and cooperation, the more people are going to call for those very same things if they become increasingly desperate.
Let's keep in mind though that so far it is only global institutions like the WEF that are promoting the initiative, not national administrations. When it starts to permeate politics is when you know the agenda is advancing. But what exactly will the economic and societal conditions be when the Great Reset becomes part of the global conversation?
Have what we have seen up to now been enough to compel people to call for change on a global scale?
Already 'solutions' like Universal Basic Income have been touted. But as yet there is not a widespread clamouring for change. But that time is coming. Whether it be in the name of Agenda 2030 (aka Sustainable Development), The Green New Deal or The Great Reset, it would amount to largely the same outcome – the subjugation once and for all of national
Fearful people are vulnerable. Fear pulls the energy out of our bodies and minds, lowers the capacity of our immune system and increases the chances that we get sick, both physically from any disease, not just Covid, but also mentally. Indeed, we have barely seen the tip of the iceberg. The WEF admit, almost with a certain satisfaction, it seems, that millions of jobs will be lost and continue to be eviscerated at breathtaking speed, and that millions of small and medium size enterprises will be gone forever, that only a few will survive, namely the globalized conglomerates.
The reader will start thinking, 'what will happen to me, my family, my business, or work – my children, their education – there will be an endless row of "what will happen", leading to despair, to angst and anxieties – all kinds of pathologies. Pathology begets pathology. Big time. More energy is sucked out of our bodies and minds, more gullibility instilled in our brains – you want to belong, you don't want to be discarded like all those men and women who have lost their jobs, their livelihoods – who will get sick of loneliness in social distancing isolation – and may even get the covid disease, if they don't wear a mask. You want to wear a mask. The media's fear campaign has scared you. And when you wear a mask, you also belong. Never mind what it does for or against your health, you want to look the same – like everybody wearing masks. Wearing a mask is like a ritual that eventually allows you to belong to the masquerade. Because, have you seen how non-mask wearers are looked and sneered at, as if they were lepers or criminals?
You want to adhere to the rules – but silently and with inherent hope you look into an uncertain future – a hope of a better world, of a return to The Normal you know. There, at the horizon, hope is still glimmering like a fading sunset. And you want to race towards that horizon, a horizon that is ever moving away from you – as horizons are known to do.
Being segregated and separated from the believers for non-obedience is the stick. Now comes the carrot. If you behave and obey the rules, you will be eligible for a vaccine – one of about 20 or 30 (maybe more) currently being developed by a myriad of different laboratories and countries. It's the Russians, the Americans, the Chinese, the Cubans, the French, the Africans – it's impossible to keep track of them, let alone trusting them.
Some of the vaccines are designed to genetically modifying your DNA forever – meaning, if the vaccine leaves a lasting damage, the damage will indeed be lasting, can never be cured. It may also be transmitted as a modified genome to your children and following generations. But you don't mind. You want to get out from under this oppression, this health tyranny. You go: PLEASE-PLEASE gimme the vaccine!
And then, they tell you, once you are vaccinated, there is a chance that some of what you are used to may go back to "normal" – meaning some things will become "normal" again. But by and large, the WEF authors, the servants of the Rockefeller Empire, tell you also that you better get used to a new normal. They never tell you actually what the new normal will exactly entail. But they tell you what's wrong with the current world order of consisting of a collection of sovereign nation states and what the New World Order – all under One Government – would address. But they don't say how and by whom – and what the new role of We, the People, will be, of those who survive the imploding cataclysm. It may be close to slavehood.
But, it's never too late. We have the power of will and solidarity, if we reenact it, to stop this cataclysm in its tracks
First you attack and kill, then you offer salvation to the survivors – and kill at the same time, by the tools of salvation, and along the way, you divide to conquer. Divide the pandemic believers from the non-believers; divide between the mask wearers and the mask protesters, divide between those who believe that "social distancing" is the answer, and those who know that social distancing accelerates the disease and eventually the process of dying. They create an ambiance of animosity and conflicts among those who were friends.
The 5G existence and further development is necessary for surveillance and control of humanity, by digitizing everything, including human identity and money.
It will be so simple, no more cash, just electronic, digital money – that is way beyond the control of the owner, the truthful earner of the money, as it can be accessed by the Global Government and withheld and / or used for pressuring misbehaving citizens into obeying the norms imposed from above. You don't behave according to our norms, no money to buy food, shelter and health services, we let you starve. No more travel. No more attending public events. You'll be put gradually in your own solitary confinement. The dictatorial and tyrannical global commandeering by digital control of everything is the essence of the 4th Age of Industrialization – highly promoted by the WEF's Great Reset.
The Political Side of Covid
Then we have Covid "The Political Operation". This type of Covid phenomena relates to the manner in which a modestly-lethal respiratory pathogen has been inflated into a perennial public health crisis in order to implement economic and societal changes that would otherwise be impossible.
This is the political side of Covid, which is much more difficult to define since it relates to the ambiguous agenda of powerful elites who are using the infection to conceal their real intentions. Covid is a vehicle the Rockefeller Empire is using to launch their authoritarian New World Order.
Others think it has more to do with Climate Change, that is, rather than build consensus among the world leaders for mandatory carbon reductions, global mandarins have simply imposed lockdowns that sharply reduce economic activity across-the-board.
This, in fact, has lowered emissions significantly, but at great cost to most of humanity. Covid restrictions have triggered a sharp uprise in suicides, clinical depression, child abuse, domestic violence, alcoholism and drug abuse. The list goes on and on. Also, it has left economies everywhere in shambles, increasing unemployment and homelessness exponentially, while setting the stage for massive famines in undeveloped countries around the world.
Even so, key players in the Covid crisis – like Bill Gates – continue to marvel at impact these onerous restrictions have had on emissions. Take a look at this excerpt from a recent post at the Microsoft founder's blog: "You may have seen projections that, because economic activity has slowed down so much, the world will emit fewer greenhouse gases this year than last year. Although these projections are certainly true, their importance for the fight against climate change has been overstated.
Consider what it's taking to achieve this 8 percent reduction. More than 600,000 people have died, and tens of millions are out of work. This April, car traffic was half what it was in April 2019. For months, air traffic virtually came to a halt. To put it mildly, this is not a situation that anyone would want to continue. And yet we are still on track to emit 92 percent as much carbon as we did last year. What's remarkable is not how much emissions will go down because of the pandemic, but how little. In addition, these reductions are being achieved at, literally, the greatest possible cost. If you want to understand the kind of damage that climate change will inflict, look at COVID-19 and spread the pain out over a much longer period of time.
Isn't it curious that Gates has spent so much time calculating the impact lockdowns have had on carbon emissions? And look at how precise his calculations are. Gates' interest in these matters is not merely speculative curiosity. He and his fellow elites are conducting an elaborate science experiment in which we – mere mortals – are the lab rats. What Gates says is, if reducing economic activity isn't going to work, then we have to find an entirely different solution, like reducing the size of the population. Isn't that the only logical conclusion?
Yes, it is. So, the Great Lab Experiment of 2020 (Covid) has a lot to do with population control; thinning the herd. But population control is just a small part of a much more ambitious plan to restructure the global economy, vaccinate everyone on the planet and dispose of those niggling civil liberties to which Americans have become so attached.
The elitist strategy has been dubbed the "Great Reset" which refers to the World Economic Forum's Covid Action Platform, a program that aims at restructuring "economic and social foundations" in a way that best suits the interests of "stakeholder" capitalists.
Here's a clip from their press release:
"COVID-19 lockdowns may be gradually easing, but anxiety about the world's social and economic prospects is only intensifying. There is good reason to worry: a sharp economic downturn has already begun, and we could be facing the worst depression since the 1930s. But, while this outcome is likely, it is not unavoidable. To achieve a better outcome, the world must act jointly and swiftly to revamp all aspects of our societies and economies, from education to social contracts and working conditions. Every country, from the United States to China, must participate, and every industry, from oil and gas to tech, must be transformed. In short, we need a "Great Reset" of capitalism…"
The level of cooperation and ambition this implies is unprecedented. But it is not some impossible dream. In fact, one silver lining of the pandemic is that it has shown how quickly we can make radical changes to our lifestyles. Almost instantly, the crisis forced businesses and individuals to abandon practices long claimed to be essential, from frequent air travel to working in an office….
Clearly, the will to build a better society does exist. If it sounds like our illustrious leaders want to remake society from the ground-up, it's because that's exactly what they have in mind. And they're not even trying to hide their real intentions. They say quite bluntly: "the world must act jointly and swiftly to revamp all aspects of our societies and economies, from education to social contracts and working conditions." That sounds a lot like marching orders and, indeed, that's exactly what they are – orders.
But how do they intend to affect these dramatic and revolutionary changes? Why Covid, of course.
They're going to use Covid to make fundamental changes to the existing system, including accelerating privatization ("stakeholder capitalism"), merging governments into a unified global regime, intensifying the elements of social control (via mass electronic surveillance, intrusive contact tracing, security checkpoints, lockdowns, internal passports, biometric IDs etc.) and taking whatever steps are required to introduce a tyrannical Brave New World.
It's all there in black and white; they're not even trying to hide it. In their own words, the "Great Reset" depends on the Covid Action Platform.
In order to "build a better society" we need to "make radical changes to our lifestyles" including reductions in "frequent air travel, and working from home rather than going to working in an office".
The statement also makes clear that the obliteration of millions of jobs and small businesses was not an accidental casualty of the Covid lockdowns, but the planned demolition of business and workers these elites consider 'non-essential'.
There it is from the horse's mouth: The glorious Biosecurity Slave State is emerging right before our very eyes and we just thought we were in another Great Depression rounded off with a pandemic.
So, when we talk about Covid the "Political Contrivance", we're actually referring to the vehicle that elites have settled on to transition the country from its present condition to a full-blown "lock-down" police state. Covid is the smokescreen that's being used to conceal the maneuverings of the Rockefeller Empire who want to implement their Grand Plan for humanity.
Rockefeller Foundation's Operation Lockstep: 'Under The Guise of a Pandemic, We Will Create a Prison State'
So, if everything feels chaotic and upside-down at the present time, don't be alarmed; it's all by design. The more muddled and turbulent the world becomes, the easier it is to get people to submit to moronic activities like wearing a face mask every time you leave the house.
Looking back to April of 2020, we probably should have anticipated where all this was headed, after all, Henry Kissinger, announced what to expect in an op-ed he posted in the Wall Street Journal. Here's what he said:
"The reality is the world will never be the same after the coronavirus. To argue now about the past only makes it harder to do what has to be done…" (NOTE – Is Kissinger clairvoyant? How did he know the "world would never be the same again"?)
As Kissinger clearly states, globalization is still alive and well among the Davos heavyweights who now see a once-in-a-lifetime opportunity to put their plan into action.
Parts of Australia and New Zealand are already under de-facto martial law while PM Boris Johnson is adding another 2,000 cops in London to enforce his Covid mandates. Everywhere in the western world, freedom is collapsing faster than a corrugated lean-to. Do they even see the train-wreck just ahead? At this moment in time we are standing on a precipice with the state attempting to push us over the edge. Once over that edge, there will be no coming back.
The global universal lockdown has already devastated and will continue to do so for years to come, our economy, jobs, businesses, livelihoods, society, social cohesions – you name it – what we called "normal" is gone, gone forever. This is the trick: Nations, mostly developing countries, who "play ball "will get money, aid money, loans and grants from the IMF, World Bank and other similar globalized institutions, to work towards achieving these goals. But – under the condition that they follow and submit to the Great Reset. The aid is a tool for further enslavement of the Global South by the Global North. Undeniably, this may lead to a division towards two or more powers – the globalists and the nationalists or the patriots.
Geopolitics
Let us be under no illusions, this is a carefully planned operation. There is nothing spontaneous or accidental. Economic recession is engineered at national and global levels. In turn, this crisis is also integrated into US-NATO military and intelligence planning. It is intent not only upon weakening China, Russia and Iran; it also consists in destabilizing the economic fabric of the European Union (EU).
The present lockdown of the Western world and much of the Third World is an attack on China. Here is how it works:
Slash Chinese export earnings. The Chinese economy is heavily export-oriented. Seventeen percent of all China's enormous production is shipped to countries that now, either cannot afford imports, or whose buying power is reduced from months of massive unemployment. What remains of Chinese exports will fetch lower prices. This comes after China's export market to its largest trading partner, the U.S., was slapped by 10 to 25% import duties, beginning 2018.
Bankrupt the Chinese Belt and Road projects. The Chinese export of capital (Belt and Road) for railways, waterways, dams, ports, power stations and other infrastructure improvements in 138 nations in the world is estimated at three trillion dollars. These projects are expected to be paid for by user fees. Because many Third World and other countries may be unable to repay those loans, China's losses could be in the trillions.
Attack Chinese commerce world-wide. To halt Chinese competition especially in electronics, companies such as Huawei and TikTok are banned in the U.S. and Britain, and the Chief Financial Officer of Huawei is jailed. Chinese scientists and students are deported, while American sanctions against Iran and Venezuela are designed to cut petroleum exports to China.
Of these, by far the greatest damage to the Chinese economy has been the lockdown; that damage will increase as world economies decline. This economic vacuum will put an extraordinary strain on the Chinese export industries and banking system.
There are two more major areas of attacks:
Military: The U S. has sent an enlarged fleet, including two aircraft carriers, into Chinese coastal waters. Australia is now building a base on a forward island confronting China, Japanese and Korean militaries have been beefed up and Japan may allow nuclear weapons on their territory. The U.S. has increased its military spending especially on advanced and nuclear weapons.
Chinese defense against such threats will be a military buildup costing an additional two or three hundred billion a year. This buildup entails a shift from peace-time capital and consumer goods to the military sector—a serious economic drain.
Propaganda: Hostile measures taken against China will be dressed up as the fight for "democracy," "openness," free trade," "free enterprise," "justice," "rule of law," "international rules," "human rights," "anti-terrorism," "reform," "anti-corruption" and "anti-communism." We, especially North Americans, should expect human rights stories from Hong Kong and Xinjiang, yearly memorialization of the massacre at Tiananmen Square, documentaries on persecutions of Christians, Buddhists, the Dalai Lama and… don't forget Tibet. And what about Chinese pollution that could destroy the planet? And what about the Chinese Communist Party, the most execrable, dangerous, evil organization in the world, towards which people of the West should direct an Orwellian hatred?
These attacks come at an inopportune time. China is embracing large scale automation requiring large capital outlays, while at the same time suffering natural disasters including the swine flu, widespread infestation of the dreaded Fall Army Worm, and devastating floods and droughts.
Is it possible that the Anglo-American financial elite had the power to convince nations worldwide to lock down? Well, they control the UN, WHO, the world organs of mass media, worldwide military deployment, world finance, and the Dollar Empire's elaborate political, drug, crime, financial, propaganda and cultural networks. Euro-oligarchs collaborate (usually) with this system.
What do they hope to achieve?
We can put aside the easier answers like "world domination," New World Order, corporate greed, financial control, 1984-style mind control, surveillance state. It is much more fundamental: The world Dollar Empire, and its predecessor British Empire, have ruled much of the world for 400 years. China has emerged as the most powerful challenger to that Empire. If China cannot be destroyed, the Dollar Empire will be vanquished.
Ranked from most desirable to least, here is what I believe the Western merchant-bankers hope to gain.
Most desirable: A regime change in China, whereby the government is overthrown in favor of a Dollar Empire vassal regime. A revolt of the Chinese people against a government that has lifted 800 million people out of poverty is very unlikely. However, military force is not out of the question. Foreign Affairs magazine, (September-October, 2020, p. 156) wrote: "By upgrading their already substantial capabilities in this domain [unmanned submersibles], the United States and its allies would highlight the possibility of a maritime blockade of China."
Next best: To convince China to adopt financial and political measures amenable to Dollar Empire domination. In the words of former Goldman Sachs banker and Treasury Secretary Henry Paulson Jr., (Council on Foreign Relations newsletter, 5/19/20):
China must move to a "market-driven economy, improve corporate governance, and develop efficient, well-regulated financial markets that earn the respect of international investors, so that Beijing can eliminate capital controls and turn the RMB [renminbi] into a market-determined currency."
In other words, de-regulation, lifting of capital and bank controls, opening the Chinese currency, the renminbi, to international speculation, "free trade," "free markets" and IMF and WTO conditionalities, designed to open the huge Chinese economy to Dollar Empire looting—as occurred in Russia in 1992-1998. But the Chinese have found a recipe for national success (industrial capitalism), and that fire-belching dragon, the Chinese Communist Party, guards the gate against renewed imperialist looting.
Least: The Dollar System can achieve the third level of options: a combined economic (lockdown, sanctions, trade and financial war), military (NATO, Five Eyes, 7th fleet) and political (ethnic/jihadist subversion, drugs, propaganda) attack on the Chinese economy. That will retard China's growth and reduce its world power.
Instead of strife, bloodshed and terrible destruction, why don't the Western financial elite join with China in solving the world crises of poverty, refugees and war; why not together explore the frontiers of medicine, science and space? While China might be amenable to collaboration with the West, the oligarchs of the West are locked against it. After all, it is they who created the poverty, refugees and war, and it is they who have spent the post-WWII years dismantling industry, sending much of it to China.
China is a successful, developing economy; the West is an unsuccessful, deteriorating economy. China is based on industrial capitalism; the West is based on merchant-banking capitalism. China invests its capital in industrial plant and equipment and infrastructure; the West invests in financial instruments.
The Chinese seek increased industrial and agricultural production to satisfy people's needs. The Dollar Empire steals the wealth of nations to create speculative profits. The Chinese system creates capital. The Western system destroys capital. The Chinese System never has financial crashes; the Western System suffers devastating crashes rescued by levies on the population. Chinese industrial capitalism raises the living standard of the population; the West's financial capitalism lowers the living standard.
This is "end game" for the governing oligarchy. This is their Armageddon. In the death throes of their 400-year-long reign, they will impose a desperate economic, financial and social reorganization which the World Economic Forum calls the "Great Reset."
One of the world's most prominent merchant-banker organizations, the World Economic Forum, issued a report, titled:
"This is Now the World's Greatest Threat—and it's Not Coronavirus"
"Affluence is the biggest threat to our world according to a new scientific report."
"True sustainability will only be achieved through drastic lifestyle changes."
"The World Economic Forum has called for a 'great reset' of capitalism in the wake of the pandemic."
With lockdown-caused destitution, unemployment, lack of food and shelter for hundreds of millions of people worldwide, one would expect that the WEF would be satisfied that "overconsumption" had been sufficiently curbed. However, they know there is still substantial wealth in the American and European middle classes that can be tapped for the post-lockdown economy. They have big plans to get rid of that "overconsumption."
The first task is to reduce unemployment, now probably 25 million long-term jobless in the U.S. Make-work projects will be "green" and "sustainable" (low technology). This will be paid for by taxing the middle class.
The second task, their true and ultimate agenda, is to create an all-out war economy—the final attempt to terrify the East into submission. This will bring extreme austerity and repression.
The World Economic Forum chieftains could not be more pleased. Changeover to "green" sustainability would bring a great reduction in "affluence" by heavily raising the price of energy making everything, from agriculture to industry to transportation, grossly more expensive. Furthermore, to pay the "huge amounts of money to be spent on recovery," will require heavy tax burdens, or social services spending cuts. The Western populations will not be told their sacrifices are made to thwart China and collapse world industry, but rather, made to "save the planet." The theory of the Green Revolution is that the West will continue to dismantle its industry to meet climate deadlines while China will be forced, by world public opinion, to follow suit.
The "Green Revolution" will soon dissolve into a total war policy. Sacrifices imposed by the "final solution" military buildup against the East (Russia-China bloc) will strip the remaining wealth of the people. Taxes, inflation, interest rates, will rise as the nation is deprived of health care, education, public services, pensions and Social Security. The "global warming" foe will turn into the Yellow Peril foe.
Totalitarian destruction of our freedoms will be as dreaded as those of Hitler Germany. Free speech will be considered a security risk, neighbors will spy on neighbors, and thousands will disappear or be assassinated. Race riots will be used to "divide and conquer." Electronic spying will be ubiquitous, as will be preventive detention. All the police state measures used against foreign populations by the military, State Department, intelligence agencies and hired mercenaries and drug mafias, will be turned against Americans.
Check out Sam Parker over at: https://behind-the-news.com/
---
False and Deceptive UN and WEF Narratives – All Part of the One World Government Agenda of Control
For decades there have been false and deceptive narratives disseminated by organisations, including the United Nations (UN) and the World Economic Forum (WEF), by the governments that comply with these narratives and by the corporate-owned media.
These narratives include the deceptive political schemes of sustainable development, Agenda 21/2030, combating climate change, and the WEF 'reset' of Society under cover of what has been proven to be a fake pandemic. According to the World Health Organization's official statistics, up to 650,000 people normally die every year from flu, yet it is never before been called a 'pandemic', or regarded as a cause for a world lock-down.
Beyond the attractively designed rhetoric of politically defined sustainable development, deeper analysis shows it is a deceptive narrative that has facilitated ongoing globalisation, a process which has had serious detrimental consequences for the environment and the wellbeing of society. The concept of manmade climate change has been utilised for a political agenda of taxation.
Globalisation, artificially created boom-bust economic cycles, and the debt-money system have been central to the accumulation of immense wealth by the monetocracy, i.e., a small group that owns and controls the privately owned banking system, the money creation process, world finance and associated mega-corporations. These schemes and processes have all been utilised for the purposes of greed, power and authoritarian control to the general detriment of the overwhelming majority of the world population. The United Nation's Agenda 21/2030, the Paris Climate Agreement, the Fourth Industrial Revolution and the proposed WEF 'reset' offer an insight into how a small group of extremely wealthy globalists want to further control and dictate the lives of all people over the course of the next decades as part of a plan for world governance.
An attempt to usher in a reset of society and one world government control under cover of the Coronavirus 'situation' and controlled economic demolition
The flawed economic and financial system was already in crash/failure mode prior to the Coronavirus 'situation'. The flaws of the system were exposed in the banking crisis of 2008, endless quantitative easing occurred from October 2019 onwards and a multi-trillion dollar bailout/wealth transfer to financial asset management corporations was sanctioned in the U.S. in April 2020. This significant bailout event gained little media coverage in comparison to the coverage of the Coronavirus situation.
The truth is a controlled economic demolition is taking place. Over the past decades, a small group have gained and consolidated immense wealth via control of the debt-money creation system, privately owned mega-banks, and mega-corporations. This process was powered by the associated GDP hypergrowth paradigm of globalisation.
Over the decades, the debt-money component of the system has resulted in worldwide debt-slavery with virtually all governments in debt to the international private banking system. This served the immense wealth accumulation plans of those few in control of the system, but the system was ultimately flawed/unsustainable. These people have long planned to dismantle their flawed economic system and collapse society to the detriment of humanity, and clear a path/excuse for the introduction of their nefarious ideal – a technocratic authoritarian 'reset' of society and centralized one world government.
The WEF, an organisation with a corporate agenda known as the Fourth Industrial Revolution and with significant links to privately owned mega-banks, mega-corporations, and the U.N., is at the forefront of this attempted 'reset' of society. This 'reset' attempts to replace the old system of worldwide debt-money slavery with their new fascist system of technocratic authoritarianism under cover of a fake pandemic and is aligned with their deceptive political narrative of sustainable development. The 'reset' is an attempt by the WEF, globalist bankers and their political cohorts to push their fourth industrial revolution agenda of control.
The WEF attempt will fail in my opinion and is failing as millions of people are seeing through the agenda. The real divide in society is not the media fostered left versus right 'punch and judy show' – it is fascist authoritarianism versus human freedom. The power seekers versus the freedom lovers. There are those that just want to be left alone and there are those that just won't leave them alone.
The Event 201 pandemic simulation was a simulation of a Coronavirus pandemic held just two months before the actual Coronavirus 'situation' in early 2020. It was held by the Bill and Melinda Gates Foundation and the WEF. The scenario explained: "the pandemic will continue at some rate until there is an effective vaccine or until 80-90 % of the global population has been exposed. From that point on, it is likely to be an endemic childhood disease" and suggested solutions to a pandemic, such as the institution of a global centralized economic body that could handle the financial response to the Coronavirus.
Enter the 'real' coronavirus situation. Less than a month after the conclusion of Event 201 a worldwide Coronavirus 'situation' appeared in accordance with the Event 201 simulation and the 'reset' of the WEF was launched, in what the organisation said was in response to the Coronavirus. The Bill and Melinda Gates Foundation, a direct partner of the WEF, has been a major force behind efforts for a Coronavirus vaccination to be disseminated worldwide.
Many commentators and people worldwide can see that the situation is yet another problem-reaction-solution (Hegelian dialectic manipulation) created by these people to attempt to implement their plans for the so-called 'reset' and one-world authoritarian government control.
Government and corporate-media deceptions in relation to the Coronavirus
The overall situation has provided ample political leverage and a wave of fear was instilled amongst the general population, largely due to government propaganda and scare-mongering tactics of corporate-controlled media who utilised nothing less than trauma-based mind control to convince the people that they are all likely to die unless they do exactly what the world government orders. A fearful people are more compliant and accepting of authoritarian change. In 2020, drastic control and lockdown measures were quickly imposed on worldwide society in response the coronavirus situation.
The book 'Covid19 – The Great Reset' by WEF Founder Klaus Schwab and Thierry Malleret utilises the Coronavirus situation as a major reason for the 'reset' and makes scaremongering statements such as:
"the Corona virus is spreading globally and sparing none"
"If no one power can enforce order, our world will suffer from a global order deficit"
"A Great Reset is necessary to build a new social contract… COVID-19 has accelerated our transition into the age of the Fourth Industrial Revolution."
The book also states social distancing measures are likely to persist after the pandemic subsides and that 'fear… will thus speed the relentless march of automation'. Yet Schwab admits in the book that the consequences of Covid 19 in terms of health and mortality are mild compared to previous pandemics and that HIV/AIDS was responsible for 100 times more deaths than Covid 19 (1). Millions of people have, therefore, challenged the mainstream/WEF narrative and posed the valid question 'if the consequences are relatively mild why are drastic changes of mass societal control and surveillance being proposed and implemented?'.
Furthermore, the health dangers of vaccines are now widely known in society, yet a message from António Guterres, Secretary-General, United Nations, New York shows the U.N. is aligned with this vaccination agenda, he states:
"we need a people's vaccine… None of us are safe until all of us are safe'
A multitude of deceptive aspects of the Coronavirus situation have been exposed worldwide. For example, in Ireland official data shows Ireland's overall mortality rate is no different from previous years and previous flu seasons and Europe as a whole shows a similar situation. Ireland's second wave shows no evidence of concerning difference in respiratory ICU or excess mortality over previous years. Furthermore, in relation to the process of registering the number of Coronavirus deaths, a document from the Northern Ireland Government website (2) stated on page 10:
"The Department of Health count the number of deaths reported by health trusts, where the deceased had a positive test for COVID-19 and died within 28 days, whether or not COVID-19 was the cause of death…and whether or not Covid-19 was the primary underlying cause of death. The figures include cases where the doctor noted that there was suspected or probable corona virus infection involved in the death"
When this issue was exposed by concerned citizens on social media the document was deleted from the government website, but the document has been saved here. Furthermore, a report from the U.S. Federal Centers for Disease Control and Prevention in August 2020 showed that the number of actual deaths that occurred has been significantly misrepresented. The report drops a "bombshell" i.e. that in 94 percent of the cases of those who died from Coronavirus, another disease was also at work on the victim and the overwhelming majority of this 6% are aged over 80. The report states:The World Economic Forum (WEF) Knows Best – The Post-Covid "Great Global Reset"
"For 6% of the deaths, COVID-19 was the only cause mentioned," the CDC stated in its report, under the heading "Comoborbities." – (3)
The 'reset' attempts to replace the system of worldwide debt-money slavery with a new fascist system of technocratic authoritarianism
The debt slavery paradigm has been in place for decades. This paradigm has been controlled by the privately owned worldwide banking system, and is evidenced by the fact that in 2020 virtually all governments of the world are in vast debt to the private international banking/finance system on debt-money the bankers created from nothing.
For decades, the international privately owned banking system has created debt-money from nothing and charged all governments and people often extortionist interest on it (usury). By this and other mechanisms it bled a significant percentage of the profits of the world's nations. This resulted in immense wealth and political power for a tiny minority that own the private system of worldwide banking, but placed a financial debt burden of control on the nations of the world.
The cruel hoax is that governments could have created this money themselves. The last US President to attempt to take the money creation process out of the hands of the private bankers was John F Kennedy.
The flawed GDP hypergrowth/globalisation system was needed by the banking system, so that it could receive endless interest payments on debt-money loans created from nothing, yet for decades GDP growth caused environmental degradation and it has been a myth that the system "floated all boats". During this time, the real economic welfare of the 99% of society, as estimated by the Genuine Progress Indicator, has decreased since 1978. The pseudo-science of contemporary economics used by all governments facilitated the process. Furthermore, by controlling the availability of credit the private banking cartel created boom-bust-bailout cycles at will that placed nations in further debt.
Over decades the power of the bankers to create money resulted in the power to own, control and manipulate the assets of the material world, as well media and politics. A small group of people and the private mega-banks and mega- corporations they run, gained and consolidated control of the majority of the world's financial wealth and assets.
This power grab was achieved not by creating more value, but by fully controlling the source of money and the financial world. A pyramid type system of hierarchical control has existed in society – it has operated via debt slavery. The higher up the pyramid you go the closer you get to the source of money creation. At the bottom level we are all going about our everyday lives.
At the next level up are governments. Governments are given a monopoly on force and use it to tax and control the population whether or not we agree. Who controls the governments? The election of new leaders via the illusion of representative democracy does not alter the vast government bureaucracy, which is ultimately subservient not to the people but to international finance. International banking and mega corporations control governments, i.e., at the next level up are the mega corporations and at the next level beyond the corporations is the privately owned worldwide banking cartel. The corporations have relied on cheap financing from the megabanks. We can conclude that those who control the mega-banks ultimately control the mega-corporations.
The old system of debt slavery may have reached its mathematical endpoint, due to peak oil, the consequent inability to grow economies further and the inability of governments to make ongoing interest payments. Recall that systemic problems in the economic system led to endless quantitative easing in 2019 and a multi-trillion-dollar banking bailout in 2020 that took place under cover of a virus. Regardless of the reason for the timing, it is clear that the 2020 "reset" is part of a long-term plan/agenda of control.
Representative democracy as currently implemented in much of the world is an illusion
Representative democracy under capitalism as currently implemented in much of the world, is an illusion – it is money that controls the world. Financial power translated into political power. Those that control the money creation process wield the power to control the corporate media, steer international political policy and own the material world, regardless of which political party is elected, or which system is utilised (capitalism, socialism, communism, etc). The real divide in society is not the media fostered left versus right 'punch and judy show' – it is the fascist authoritarianism of the money masters versus human freedom.
We have been under the impression that we each live in individual and autonomous nation states, but actually the mechanisms of a one world corporate and institutional government have already long been in operation.
Over the decades its controllers have facilitated a perpetual war machine causing death to countless of millions of people; mass abortion; genetically modified foods; thousands of chemical compounds, herbicides and pesticides harmful to human health; toxic pharmaceuticals and vaccines; fluoridated water; and widespread environmental destruction. Now in the midst of what has proven to be a mild virus situation, we are expected to believe that the leaders of the unelected WEF and its corporate partners, such as vaccine-promoting billionaire Bill Gates, are suddenly concerned for the lives of people? Does a vulture wish the cow to be alive or dead? Does a vulture government wish for the health of its citizens? (4)
The real sustainability movement was hijacked decades ago by the deceptive political scheme of sustainable development
Decades ago, the real sustainability movement was hijacked by the deceptive political scheme of sustainable development, which actually endorsed the unjust debt-money banking and flawed GDP hypergrowth economic system. Sustainable development is and has been a false narrative operating under cover of continued environmentally destructive globalisation. Sustainable Development is not real sustainability at all. It is a political scheme that has detracted from what real environmentalism is.
The subject of environmental sustainability and how to create a truly successful 'sustainable' society that nurtures human creativity, freedom, and wellbeing and that of the natural world have been central to my research for the past 15 years.
However, over the past decades the orthodox political agenda of 'sustainable development' that has been promoted by the UN. and the governments of the world has not worked. It has not addressed the unjust flawed systems of banking and economic control that benefitted an elite wealthy few at the expense of everyone else, nor has it solved the "real" environmental problems of the world. Furthermore, the loosely defined Brundtland definition of sustainable development used by the UN and governments for 30 years actually endorses GDP growth and is not a scientifically robust definition of sustainability.
There are detrimental environmental and societal effects associated with the debt-money banking and GDP growth economic paradigm (5). The worldwide private banking system has for decades been bleeding a significant percentage of the profit of nations of the world/the productive element of the economy.
For example, in recent years Ireland has been paying between €6 to 10 billion per annum in interest payments on the national debt and as a trading entity the country has been making a profit of around €40 billion per annum. Yet the political agenda of sustainable development does not reform these areas – in fact it has endorsed them for decades. The 'real' environmental and 'real' sustainability movement was hijacked decades ago by this political scheme known as sustainable development. By 2020, even the word 'sustainability' itself has become a dirty word to many people – with its modern political mechanisms far removed from the insightful writings of original sustainability visionaries of the 1970s.
Part of the political sustainable development strategy has been a delusional attempt to "decouple" environmental impacts from GDP growth. This decoupling strategy has failed, was never going work and I doubt it ever was intended to work. This is evidenced by a BIOS Research Institute study that reviewed 179 scientific studies on decoupling published between 1990 and 2019 — a period of nearly 30 years — and found, in short, that:
"the evidence does not suggest that decoupling towards ecological sustainability is happening at a global (or even regional) scale." – (6)
BIOS Research Institute is an independent multidisciplinary scientific organisation that has previously advised the UN Global Sustainable Development Report on the risks of emerging biophysical limits to endless economic growth. The de-coupling concept has been utilised as a ploy to placate people concerned with the environmental impacts of rampant GDP growth – yet rampant globalisation and environmental degradation continued unabated for decades.
Politically defined 'sustainable development' has been an illusory light 'greenwashing' of the current flawed system, thereby temporarily perpetuating a system that will ultimately fail due to its unsustainable, ecocidal, and human welfare diminishing effects. Many seemingly worthwhile corporate and governmental sustainable development initiatives are in operation, but all have operated within the unquestioned paradigm (or status quo) of environmentally destructive GDP growth along with the debt-money private worldwide banking system that has placed much of humanity on a treadmill of debt.
In analysing sustainable development, we must expose these flaws and detrimental effects of the banking, economic and monetary system, as well as the undemocratic deceptive 'reset' of society that is being attempted in 2020 to replace the old flawed system.
UN sustainable development programs, such as Agenda 21, Agenda 2030, and the Paris Climate Agreement, as well as the economic 'reset' being attempted, all operate under the cover of continued globalisation. All are working together to create a new resource-based economic system. This may sound a worthy goal in light of the flaws of the failing growth-based economic paradigm.
However, closer analysis reveals that sustainable development involves an agenda to take control of all resources and all production, leaving all people to be micro-managed by a type of technocracy. This technocratic type society is outlined in Agenda 21/2030 and proposed by the WEF 'reset'. The political jargon of 'sustainable development/Agenda 21' is not true sustainability. Agenda 21 involves a plan to abolish private property rights and get all people off the land and into so-called smart towns and smart cities, where they will be unable to grow much food.
This is the opposite of what is needed – people should be moving back to the land and developing self-sufficient communities. Furthermore, smart cities utilise EMF technologies and thousands of scientific reports exist describing the harmful health effects of these technologies. An undemocratic dictatorship involving the rise of smart cities, surveillance, crypto currencies, and the drive toward a digital cashless society that people have no control over are all part of this globalist plan.
Creating a truly sustainable society involves developing practical locally empowered self-sufficient rural communities of villages and towns with local and regional systems for food, energy, water, goods and services rather than the unsustainable trans-national systems of the so-called globalised economy or the corporation-serving technocratic futures the WEF have planned for us. It also involves living conscious of the needs of others and of the purity of natural environmental resources we all rely on.
Climate Change – 900 scientists have signed a declaration disputing the IPPC carbon emissions narrative
It is my opinion that the narrative of the UN Intergovernmental Panel on Climate Change (IPCC) is incorrect. I have signed a declaration to this effect at http://www.clintel.org along with 900 other scientists and professionals. I have zero commercial interest in stating this position.
I kindly urge the many well-intentioned people working in the environmental and sustainable development sector to please re-evaluate the evidence/data in relation to the IPCC narrative that carbon (CO2) emissions are causing climate change and to be open-minded to the analysis of other scientists.
The concept that CO2 emissions cause climate change is a flawed theory and it has involved a political agenda of taxation that has been incessantly promoted for decades. This agenda has detracted and distracted significantly from peoples understanding of what real environmentalism is and involves.
The geological archive reveals that Earth's climate has varied as long as the planet has existed, with natural cold and warm phases. The world has warmed significantly less than predicted by IPCC on the basis of modelled anthropogenic forcing. The gap between the real world and the modelled world tells us that we are far from understanding climate change. Climate models have many shortcomings and are not remotely plausible as global policy tools. They blow up the effect of greenhouse gases, such as CO2, and ignore the fact that enriching the atmosphere with CO2 is beneficial. Furthermore, relevant data showing temperatures were higher in the early 1900s than today appears to have been omitted (7).
CO2 is plant food, the basis of all life on Earth. Thousands of actual industrial pollutants exist, but CO2 is not a pollutant. It is essential to all life on Earth. Photosynthesis is a blessing. More CO2 is beneficial for nature, greening the Earth: additional CO2 in the air has promoted growth in global plant biomass. It is also good for agriculture, increasing the yields of crops worldwide (8).
The UN Agenda 2030 plan and the Paris Agreement goal to reduce CO2 emissions by 7% per annum until 2030 is in effect a plan that will disable the resource mechanisms of the industrial economy for the food, energy and goods that enable human life and survival. This is being done before humanity has transitioned away from the flawed trans-national industrial economy toward self-sufficient local economies. Whether you believe the 'plug is being pulled' intentionally or not, this inevitably amounts to a de-population outcome. The dependency of humanity was created for decades by an international political corporate hierarchy rampantly promoting and implementing flawed trans-national systems for agriculture, energy and goods. I conclude, that the science and data behind the IPPC CO2 narrative is flawed and the Paris Agreement plan to reduce CO2 emissions so quickly would have a de-population effect. These potentially genocidal narratives must be exposed.
Conclusion
The United Nations, European Union, and most governments are not serving the people, for decades they have been prioritising the interests of private bankers who control the money system; and the interests of institutions, such as the WEF, which prioritises the interests of privately-owned mega-corporations. The privately owned banking/money creation system is the head of the snake.
The current worldwide situation has serious implications for the future of worldwide society and human wellbeing. The 'reset' agenda is an imposition against human freedoms is being exposed worldwide.
As sovereign free peoples, we urgently need to start planning, connecting with each other and creating much more self-sufficient local communities, towns, and regions free of the mainstream economy. Whilst respecting 'real' environmental principles and the natural world we rely on, we should disavow the fake deceptive narratives of the 'reset', sustainable development and combating climate change.
The path for success involves personal freedom and local independence – not centralization, authoritarianism and slavery. If people are not dependent on the system they cannot be controlled by the system. How many people will accept the globalist authoritarian system and how many will fight for freedom and create their own local systems? You are part of the answer.
I have no doubt that the short-term effects of this 'reset' are likely to be bad for many people, but that the long-term opposition to these unjust changes will eventually bring an end to the present system of nefarious corporate control and manipulation. These subjects are further described in my book "Globalism Unmasked: The Truth about Banking and Reset of Society".
God Bless and best wishes in the years ahead.
Mark Keenan, from Ireland, is author of the book "Globalism Unmasked: The Truth about Banking and the Reset of Society", which is available on his website www.mkeenan.ie He previously worked as an Environmental Affairs Officer at the United Nations Sustainable Development Team in Geneva, Switzerland, as a Science Advisor at the U.K. Government's Department of Energy and Climate Change and as a Policy Analyst at the Sustainable Development Council, Ireland. His academic background includes postgraduate studies in Strategic Sustainable Development (with a focus on The Natural Step framework); MSc studies in Sustainable Development and PhD research in Whole-systems scientific sustainability frameworks. In his blog in 2010, he covered the multi-billion bailout/wealth transfer to privately owned banks at the unjust expense of the people of Ireland. He is a former member of the Foundation for the Economics of Sustainability, an organisation he had joined in 2006.
Notes
1 Covid 19: The Great Reset', by Klaus Schwab and Thierry Malleret, page 246.
2 For example, in Northern Ireland Covid 19 registered deaths had fallen from 128 deaths in the week of 24th April 2020 to 1 death in the week of 31st July 2020. Source:
https://mkeenan.ie/wp-content/uploads/2020/10/Deaths-Registered-in-NI-Week-34-2020.pdf
3 Source: https://www.westernjournal.com/cdc-now-says-94-covid-deaths-underlying-condition/
4 This paragraph was inspired by the writings of a good friend.
5 For more information please see the book "Globalism Unmasked: The Truth about Banking and the Reset of Society" at www.mkeenan.ie
6 Source: https://medium.com/insurge-intelligence/green-economic-growth-is-an-article-of-faith-devoid-of-scientific-evidence-5e63c4c0bb5e
7 Please see http://www.clintel.org
The original source of this article is Global Research, Mark Keenan, Global Research, 2020
The Great Reset for Dummies
The peasants are getting fat, and they are breeding!
Oh no.
What is "the Great Reset"?
The Great Reset is a massively funded, desperately ambitious, internationally coordinated project led by some of the biggest multinational corporations and financial players on the planet and carried out by cooperating state bodies and NGOs. Its soul is a combination of early 20th century science fiction, idyllic Soviet posters, the obsessiveness of a deranged accountant with a gambling addiction—and an upgraded, digital version of "Manifest Destiny."
The mathematical reason for the Great Reset is that thanks to technology, the planet has gotten small, and the infinite expansion economic model is bust—but obviously, the super wealthy want to continue staying super wealthy, and so they need a miracle, another bubble, plus a surgically precise system for managing what they perceive as "their limited resources." Thus, they desperately want a bubble providing new growth out of thin air—literally—while simultaneously they seek to tighten the peasants' belts, an effort that starts with "behavioral modification," a.k.a. resetting the western peasants' sense of entitlement to high life standards and liberties (see awful "privilege").
The psychological reason for the Great Reset is the fear of losing control of property, the planet. I suppose, if you own billions and move trillions, your perception of reality gets funky, and everything down below looks like an ant hill that exists for you. Just ants and numbers, your assets.
Thus, the practical aim of the Great Reset is to fundamentally restructure the world's economy and geopolitical relations based on two assumptions: one, that every element of nature and every life form is a part of the global inventory (managed by the allegedly benevolent state, which, in turn, is owned by several suddenly benevolent wealthy people, via technology)—and two, that all inventory needs to be strictly accounted for: be registered in a central database, be readable by a scanner and easily ID'ed, and be managed by AI, using the latest "science." The goal is to count and then efficiently manage and control all resources, including people, on an unprecedented scale, with unprecedented digital anxiety and precision—all while the masters keep indulging, enjoying vast patches of conserved nature, free of unnecessary sovereign peasants and their unpredictability. The king's world feels far more predictable and relaxed when the chaos of human subjectivity is contained for good.
Plus, as a potentially lucrative aside, a bunch of these tightly managed "assets" can be also turned into new financial instruments and traded. Game on!
In other words, it's an "efficient" global feudalism that goes much farther than its medieval brother since the scanner is all-seeing: every person, every mineral, and every berry is digitally tagged and tracked. Under that framework, every peasant has a function that is derived not from the mystery of life, and not from their inner calling—but from AI, the master of efficiency and the servant of the king. Ideally, the peasants can be convinced that it's good for them (or necessary to be safe, see "contact tracing") and that this is what progress and happiness are like—but if not, there are other ways, from classic violence to virtual prisons to "morality pills."
The reform in question is meant to disrupt all areas of life, on a planetary scale: government, international relations, finance, energy, food, medicine, jobs, urban planning, real estate, law enforcement, and human interactions—and it starts with changing the way we think of ourselves and our relationship with the world. Notably, privacy is a huge thorn in the collective eye of our "great resetters"—and—as I am typing this, they are pushing their sweet talking points about how privacy is really an outdated concept—especially when it comes to people's medical data, sheesh—and that we simply cannot move forward with the bright future if silly people keep clinging to their privacy.
I will briefly go over different elements of this slippery reform in a sec—but to sum it up, the desired end result is a giant, joyless, highly controlled global conveyor of everything and everybody where privacy is tremendously expensive, dissent is unthinkable, and spiritual submission is mandatory. It's like a 24/7 medicated reality, except the medications are both chemical and digital, and they are reporting you back to the mothership, which can then punish you for bad behavior by, say, blocking your access to certain places or by putting a hold on your digital bank account—perhaps without any human intervention at all.
Thus, on a sensory level—as it relates to money and power—this conveyor is an attempt of the super wealthy to organize and monetize their "assets," including people—more efficiently than ever before. On a theological level, the initiative is shaped by transhumanism, a formal belief system rooted in a pathological feeling of being repelled by all things natural—and a resulting view of biological forms as defective robots, which are made perfect, serial killer perfect, by merging with machines in a way that redefines the meaning of being alive and defies death itself.
I would like to stress that we should never underestimate the importance of subjective feelings and theology in the shaping of historical events. Our entire history is a sum of subjective choices—where the choices of the more powerful and the more driven weigh more. And religious reform, which typically stems from various powerful individuals' subjective preference for what the big picture should be like, has been a driver of large-scale social, economic, and cultural changes on this planet for centuries. What we are looking at here is a new religion—and as much as I want to believe in the general cleanliness and rationality of the system—on the higher level, we are not dealing with a rational, scientific, honest, benevolent—or even misguided—attempt to make things better. When it comes to the masterminds of the Great Reset, we are dealing with a combination of standard greed—and the emotional pathology of restless, rotting madmen who are freaking out over the maintenance of their property in this new era, and who resent their biological nature as such and want to be gods. Sadly, the crazies are rich and well-connected, and they can hire a million underlings to put on a convincing, feel-good, rational external-facing presentation about their new religion. And to bribe the media. And politicians. And academics. And campaign organizers. And non-profits. And let's not forget my brethren, the artists, who, out of starvation and indignity, will then create beautiful, artful, moving ads for anything that pays. And by the time the circle is complete, we have a brand new public opinion and technically, still a "democracy"! If only those conspiracy theorists went away…
So, who are the people leading this, and how coordinated is this effort?
From the looks of it, it seems to be the usual suspects: top capitalists of the world, historically wealthy dynasties from different parts of Earth, members of secular and religious royalty, billionaires, etc.—in other words, it's the people who have enough money to feel like this world is theirs, the 0.0001%—and maybe also the people immediately under them who are seeking upward mobility. Some familiar faces, some faces we've never seen.
Obviously, they are not a monolithic mass, and I am sure that they don't agree with each other on everything and probably compete over who gets to eat more peasants. There is certainly rivalry between the American and the Chinese elites, for example, or between the American and the Russian elites—as well as between different individual super sharks. But all in all, even as they compete, they have shared interests and shared messaging, and there is more strategic camaraderie and common ground between them than between any of them and any of the peasants. For example, none of them is likely to turn down the idea of creating a new class of financial assets to make money off! In addition, they also have advisers—who, in turn, are competing with each other for the highest pay, trying to push their ideas through. All subjective, yet also extensively—and expensively—coordinated in areas of their shared interests.
And currently, the "winning" concept of the day seems to be a world filled with abbreviations: AI, 5G, IoT, and so on. A world where the money is digital, the food is lab-grown, where everything is counted and controlled by giant monopolies, and the people are largely deprived of free will. A world where each element of nature and each living being is either a data host, or a source of energy—or both. A world where the flow of the peasants' everyday is micromanaged by ever-monitoring, ever-nudging AI that registers thoughts and feelings before the people even get a chance to make those thoughts and feeling their own. A world where living itself is outsourced to the machine, and a human being is essentially a meat suit.
Now, I don't think that this exact vision will ever come true in full. It is likely to implode before it gets half-way there—and some of what I just described is no more than daydreaming of a very broken mind. But the powerful crazies are trying their best to make this nightmare reality. Thus, the danger is not in being overtaken by suddenly self-conscious AI but in the disruption of normal life and in the utter misery that the crazies may cause to our minds and bodies as they rush to slice and dice the world, using various convenient catch phrases such as "global health crisis" or "climate change."
And yes, there is definitely coordination and continuity, as there is continuity in dynasties and philosophical trends. Some of it is more ephemeral, and some of it is more concrete. On the ephemeral side, the vision of the "resetters" is related to the futuristic ideas that were popular in the early 20th century, to the dream of a global corporate monopoly that propped up the bolshevik revolution of 1917, and to the overall crave of controlling the world with technology, something that was attempted and failed in the Soviet Union in the 60s—using the language very similar to today's. On the concrete side, the Great Reset (which by the way is very well coordinated, to the extent that both Biden and Johnson are using the same coded words put forward by the WEF) grows out of the post-WWII efforts to maintain a "correct" power balance in the world, with "correct" financial interests reaping the benefits.
The "sustainability" language, which is an important pillar of the Great Reset marketing kit, was initially created as a part of various United Nation's programs—such as "Agenda 21" and "Agenda 2030," and I am sure that during the production of those programs, both elements—conspiracy and benevolence—were present. Both are sets of extremely dry and boring documents about resource management and justice, which read like something written by a tired, square Soviet teacher with a good grasp of bureaucratic terms, written mostly to justify the paycheck of the bureaucrats and the existence of the United Nations. What's interesting about the latter is that typically, the UN is pretty useless, meaning that people get together, talk, come up with long bureaucratic documents and non-binding resolutions—and then nothing of essence happens. But not this time. Not now. The program's on! So it must be important to somebody who's paying. And yes, I am cynical. In everything that happens, there is always a combination of good intentions, greed, ambition, personal relationships, financial interests, delusions, and so on. Politicians talk to financiers, generals talk to politicians, somebody is somebody else's uncle, and this is how things get done. Unfortunately, the less straightforward the top-down messaging, and the more abundant the propaganda, the less the value of good intentions, and the easier it is for villains to pull off utter absurdities.
And of course, initiatives of such great magnitude may go through very long and quiet "planning phases," during which the desired ideas are being planted in the heads of the desired people through private conversations, small meeting, funded research, industry conventions, and the like. So by the time the "action" button is pressed, it feels like a trend is already there. And let me repeat again, absolutely everything in history is a result of subjective choices made by subjective people. The way everything in history happens is that people get together, decide what they want to do, and do it. When important people act, the impact is more visible. So, in a way, everything is a "conspiracy," because everything comes through human agency. And often, the important people cover up their deeds, that shouldn't be a radical idea.
And yes, by now, the top power holders in the West have figured out that it's more cost-effective and less labor-consuming for them to just bribe the media "of record," the scientists, the academics, the politicians, and even the "controlled opposition"—and have them convince the peasants—than to police everything and everyone by force. And by the way, while the pinnacle of this tower is a conspiracy in earnest, in a sense of it being a coordinated effort where the masterminds are acting in general alignment with each other, without disclosing their true long-term goals to the peasants—the rest of the tower is probably the usual human stuff, multiplied by the lack of the old-fashioned, moral sense of responsibility. The usual human stuff is a medley of ambition, hustling, greed, carelessness, arrogance, and even good intentions. The closer to the bottom, the more ignorance and the better the intentions—because most people do believe that they are doing good—but it doesn't change the tragic trajectory of the "resetting" cavalcade.
Okay but maybe hold on, there is a real crisis, and the rich have woken up because they want to live? What if there is no conspiracy per se, and they have simply realized that the planet is a mess, and now they want to address the issues of overpopulation and pollution because there really are too many people on the planet who are all over-consuming and polluting? What do you say to that?
I am glad you asked, so let's talk about that.
It is absolutely true that the soulless, utilitarian approach to nature, to life, and to other living beings has been extremely destructive—with the most immediate, most visible destruction outsourced to "third world countries" and to the less financially fortunate people in the West. (See landfills, Cancer Alley, and unhealthy, poison-filled non-organic foods). It is true that massive consumerism and the use disposables (brought to us by more or less the same parties who are now scolding people for consumerism) have created a lot of messes. It is true that our oceans and lungs are full of plastic, that the amount of chronic disease is skyrocketing, and that many species are dying off. It is true that our soil, our food, and our bodies are tainted with highly toxic glyphosate. It is true that usually, decades pass between the time manufacturers realize the toxicity of their product and the time when saying so in a conversation stops being a conspiracy theory. All true. However, it is also true that the people who are pointing fingers at social ills and telling us that we need a Great Reset are from same camps and lineages that have caused it in the first place. It is true that underneath the language of their marketing brochures, there is toxicity and havoc that greatly exceed what we have today. Thus, they are either idiots or liars—and I am afraid it is the latter. However rich, they are not even remotely morally qualified to fix anything in this world. And whatever we choose to do to heal our relationship with nature and with each other—it definitely isn't the technofascist, neofeudal Great Reset.
A metaphor: If the leader of the Rapists Party came up with a Platform Against Rape that didn't stop the raping but that rebranded the very act by saying that if one uses a pink dildo made of recycled plastic to penetrate, then it's not rape… would you think it's a platform against rape in earnest?
So no, they are not the people to lead the way (just check out this garbage in space idea). If we go along, we will end up with a world that looks like this:
Speaking of solutions, there are plenty of activists and local leaders, such as Vandana Shiva, for example, coming up with ways to heal our relationship with nature. There are whistleblowers. There are lawyers fighting corporate giants and sometimes winning. There are doctors risking their careers to protect their patients. There are local farmers. There are artists baring their souls. There are truth tellers. There is dignity, and there is respect if we insist on them. I believe that good long-term solutions come from inner honesty and peace, and that each of us possesses the unique genius that helps us locate our piece of the puzzle, which ultimately heals the world.
As far as there being too many people on the planet, I think even that is spin. Actually, Vandana Shiva has produced analysis of industrial vs. traditional local agriculture in terms of numbers, and it looks like we've been lied to by Big Ag about their importance, too. Also, the biggest "demographic problem" in the West right now is the growing number of the old vs. the young. And even in the "developing world," the trends seem to be different from what we are are taught to think. And furthermore, the planet has enough for all, and the reason we are facing scarcity is because that 0.0001% of people control a lot. Ironically, they are the same people who are worried that there is not enough, pushing the idea of overpopulation—often while breeding enthusiastically—and infecting young brains with the idea of overpopulation to the extent that now, some middle-class young people don't want to have kids, "to save the planet." How messed up is that?
And yes, the idea of overpopulation has been worrying the leaders for some decades. I would argue that at times, their thoughts have carried eugenics overtones (see, for example, this 1974 Kissinger Report that brags about "incentivizing" Indian men to get vasectomies). And no, it wouldn't be completely crazy to posit that eugenics didn't quite go away since Hitler has ruined the brand, and that whoever believes themselves to own the world, probably wouldn't mind a little more surgical management of the demographic trends. Can I read their minds? No. I can't say who exactly thinks what exactly, and luckily for me, I am not invited to their meetings—but every now and then, personas like Gates or Prince Charles say things that sound quite Hitleresque, and it make me wonder. On the other hand, I don't find it particularly shocking because human nature hasn't changed since the time when eugenics was socially acceptable in the "respectable society." Thus, my theory is that some powerful people of the world are truly evil and probably fiddling with eugenics—and some are probably just indifferent to the desires of the peasants—but on my end, I don't really care which one it is. Evil or indifferent, I don't want them to destroy my world. Is that too much to ask?
My job is Poison Distributor.
My condition is
Hatred of Biological Forms.
They call me deranged
But I am the sanest of all.
They call me a merciless killer,
A sadist, a robot, a king.
But I am just a perfectionist.
My job is Poison Distributor.
My religion is
Hatred of Unpredictable Shapes.
My poison will find you
In words,
In the water you drink,
In food,
In the air your breathe,
This way or another,
It'll find you.
My job is Poison Distributor.
A very practical job.
You are welcome.
Now, let's quickly look at the areas that, according to the blueprint of the Great Reset, need to be disrupted and completely redesigned. That is a giant topic in itself, and I will only touch upon it lightly, with a special focus on the language used and how it overlaps with the "pandemic response." I strongly encourage you to go to the World Economic Forum website and look around.
Statehood and Governance.
In the new world, countries still exist but they all abide by a central order. It's "cooperative" (wink, wink). A lot of government functions are automated and delegated to AI. Decisions are based on data and algorithms, there is no privacy, and there is a lot more fluidity as far as migrations (so unfortunately, the very humane sentiment of being kind to immigrants that is being promoted in the media might not about kindness, which is a bummer to me personally). There is also a possibility of replacing human governments with AI altogether, but not immediately. The reasoning is simple: In order for the super wealthy to manage global inventory, individual governments have to act more like mid-level managers accountable to international authorities than like independent federal governments.
(Remember how "mom and pop shops" were pushed off the market and replaced by chain stores? Same thing here except in this case, the mom and pop stores are countries.)
Traditional America, now, is very much in the way of this. Its habit of generous consumption and free expression, its self-centered foreign policies, its sense of entitlement, and its big suburban houses are a no-go. A traditional, independent, strong America is an obstacle. In that light—and with a disclaimer that I don't think that there is such a thing as a just empire, I feel like there is an active effort to "even America out," to co-opt its government, to destroy farms and small businesses—especially the ones that are not consistent with this all-digital future—and to bring down the entitled middle class, especially in "outdated" career paths. It feels like we are currently in the middle of a "color revolution," a soft coup. Usually, American elites do it to other nations—but now it's happening on the domestic soil. It feels like the Great Reset agenda, through its messengers and through its money, is shaping both the schizophrenic "COVID response" and the suddenly mainstream and well-funded, super corporate "social justice / climate" movement, which are all at this point intertwined in terms of messaging. Both pretend to promote pubic good, and both skillfully weaponize real issues and get a rise out of people who have a real love of fairness in their hearts—all to clear the way for the financial goals of the "great resetters"—such as a complete erosion of privacy (see contact tracing), moving all human activities online (see, well, everything), AI-based law enforcement and precrime (see "defund the police"), and so on. And yes, America has many honest problems. But it's not like the current structures are being replaced with a council of spiritually grounded, wise indigenous elders who are deeply connected to Earth and who will not hurt any innocent life. What's being attempted—however fuzzy the marketing coverup—is far worse, far less humane, and far more destructive than what we have today. I don't like it.
Finance.
It's digital currency, crypto, and mobile payments all the way. The citizens must be totally transparent and leave a trace of everything they do, remember?
Food.
All I can say is I hope you like cockroach meat, because it's coming.
Cynical remarks aside, the "future of food" is a disaster. The liars in high chairs have the nerve to use good words like "sustainable development" but there is nothing sustainable about this thing. It's BigAg on steroids, very toxic. And, incidentally, it's also energy-consuming as all these robots, sensors, and data centers ain't free, but who's counting that.
Also, today's farms have to go. Not only are the pesky traditional local farmers competing with patented lab-grown food and—also patented—GMOs, and—also patented—soils—they are also taking up the space needed for royal recreational areas, as well as wind turbine and solar panel parks (which all take up a lot of space, by the way). And what do you know, maybe the kings really want to "conserve" some patches of nature by keeping it free of people. It's their inventory, after all, it makes sense to maintain it well.
No wonder the "COVID response" is hitting the farms so hard, forcing them to go out of business…

Agriculture.
Education.
Online.
Medicine.
Tele-
So far, in both medicine and education, we are very much on track, thanks to the global pandemic…
Energy.
Now, this one is interesting. Because fossil fuels, the devil of today's marketing, are genuinely bad. It's true that oil extraction is abusive to the planet. The spills create a lot of havoc, and they happen all the time. Oil barons are bandits. People who live close to refineries get sick. Plastic, which comes from oil, is polluting everything, from the oceans to our stomachs and lungs. However, fossil fuels are also the only energy source—besides nuclear—that is currently capable of supporting the world's population's consumption levels. Furthermore, if you look under the hood of "green," it's not that green, really, unless we are talking the color of money. Solar panels take up a ton on space, they degrade quickly, and turn into toxic heaps.
Wind turbines also take up a ton of space and have their own problems. Both are highly dependent on weather and don't provide sufficient energy. It is also noteworthy that the recent film by Michael Moore, Planet of the Humans, which was exploring some of the not so green aspects of "green energy" and shedding light on some of the corruption in the environmental movement, was attacked by the leading environmentalists to viciously and so uniformly that the film was removed from major platforms and kind of disappeared from the public eye.
Anyway, what's going to happen if fossil fuels go away? By the way—and this is an important point—I am not actually convinced that the "resetters'" intend for fossil fuels to truly go away. I think we could be looking at an act of rebranding. I did think until recently that they really wanted to "disapper" fossil fuels—but then I looked into "climate tech"—and now I am thinking that the things are more complex, that it could be a strategic geopolitical maneuver. I don't know. There are some peculiar technological overlaps between fossil fuels and "green" energy—but time will tell. In any case, if they either go away or pretend to go away, we'll quickly discover that wind and solar are not cutting it—and then, we'll meet our new king of "green" energy, nuclear fusion, yay.
When that happens, our friend, the famous philantrocapitalist, will come to rescue. He is heavily invested in nuclear fusion reactors—in fact, his favorite project, according to himself. (Actually, he happens to be very deeply involved in about every bullet point on the Great Reset list, what a business genius he is.) But wait, to make the intrigue even more interesting, the WHO, which of course enjoys his generous funding, has in the past gone to great lengths to underplay the health toll of nuclear incidents such as Chernobyl and Fukushima.
Speaking of energy and finance, let's talk about "human capital." In the new world, "human capital" is not just a metaphor for HR or labor. Microsoft, for example, has a patent for a method of transforming human behavior into cryptocurency, which is done through an unspecified device coupled with a server that registers body activity and "mines" crypto. Since under the New Normal, digital and crypto are supposed to become mainstream, this looks suspiciously like a tool that can be used both to tightly control the behavior of the poor who may depend on this for income—and to literally mine the bodies of otherwise "useless" welfare dependents / UBI recepients for energy (which, by the way, is an actual thing, believe it or not).
Furthermore, this patent could potentially be used to create a new financial instrument because, if mined for energy, these people become "assets" that could possibly be bunched together into virtual portfolios and virtually traded. See how neat? Now, we are talking proper serfdom! And yes, this sounds very sci-fi but let's not forget how some billionaire "visionaries" think—not like normal people, or else the workers at Amazon warehouses wouldn't be wearing diapers to skip bathroom breaks. Also let's not forget that today, there is trading of very theoretical items as well as betting on weather. A lot of money in this world is made on strange, arbitrary things!
Speaking of weather, the Great Reset also legitimizes the dangerous, invasive atrocity that is geoengineering, and makes it potentially "cool" and "life-saving," just like some "climate change movement" white papers do. I noticed that and mourned that fact a couple of years ago, screaming from the rooftops about how messed up it was. Spraying toxic crap in the air is cool and "green"? What an act of linguistic trickery.
Also, a word on carbon. I am not going to get into the entire thing because the article is already long, however, it seems that whatever the story of carbon was at birth, by now the story has transformed into a tool of creating a market out of thin air, and a bunch of financial instruments to make money off, also out of thin air. For example, look at this plant, backed by Gates and some oil giants. My favorite part is that after carbon dioxide is removed from the atmosphere using a cocktail of chemicals, one of the ways to store the loot is to burn a bunch of trees (sorry, "biomass"). Yes, that makes perfect sense, because who can make money off simply leaving trees alone and letting them do the job, for free? What kind of idiot would allow that?
I would also like to point out the fact that when it's stored, it's stored deep underground in ways never done before. (What does is do the inner processes of the planet? Did anybody think this through?) It also requires building pipelines to transport carbon dioxide from one place to another, much like transporting oil. And finally, carbon capture and storage is incredibly energy intensive, and the energy comes from… fossil fuels? Nuclear? Wind turbines that then have to take up half of the planet's surface? Oh I don't know… And speaking of language, the goal is not "zero carbon emissions," it's "Net Zero Carbon Emissions," which means that we can keep polluting, and then build a new lucrative industry on top of it, while creating a new kind of pollution. In other words, business as usual…
Also, while we are on the topic of "green sustainable development," isn't building a lot more surveillance tech and infrastructure—which are all extremely energy-consuming not to mention unclean—at odds with the idea of green? I thought about it a while ago when I read, with great initial excitement, the text of the Green New Deal proposed legislation. I was, like, yay justice and indigenous rights, yay…. wait… "smart" power grids? Isn't it exactly what Big Tech wants, and doesn't it imply a need for smart sensors that come with more infrastructure and satellites, more towers, a loss of privacy, and new kind of wireless pollution producing untested health effects? It stopped me on my tracks and compelled me to look into various "green" initiatives—and as a result, discover various skeletons in the closet. And then I stumbled into the work of Cory Morningstar, and I was like, wow. My instincts were right, it's not exactly what it seems!!
Now, this provides a nice segue into how the "global health crisis" narrative plays into the Great Reset.
First, some housekeeping notes.
As I said before, the Great Reset is an extremely ambitious plan of restructuring both the world's economy—and the very notion of what it means to be alive. (Is an AI-nudged zombie whose decision-making is externalized really alive?) Without a cooperating population, this ambitious economic and religious reform cannot succeed.
What is the best way of making the population cooperate with this very strange reform? It's fear—because promises of pleasure are not enough to pull off such a massive and bizarro shift. Thus, it has to be fear and stress, whether it's because of an external enemy, a prospect of a natural disaster, or a disease.
Let's not forget that prior to 2020, there has already been a very expensively organized fear narrative, supported by more or less the same players who are now pushing for the Great Reset. I am of course talking about the weaponized "climate change" narrative. And while there are plenty of environmental problems that need to be addressed asap, the corporate "climate change" movement has been strangely focused on messaging that roughly coincides with the messaging of the Great Reset campaign, serving their financial goals—and the funding trajectories also overlap. So it looks like the financial interests behind the Great Reset tried out to use the "climate movement" first but it didn't generate the desired fear levels quickly enough. Not enough people cared. I have personally sat through a training session, and am familiar with "organizing" and the neurolinguistic programming tricks that are supposed to make the audiences very worried about the climate. The messaging is very well thought-through and gives away a generous financial backing, it's not a hippie grassroots movement—even if a lot of individual people sincerely pour their souls into that. Just like rank-and-file Jehovah witnesses knocking on your door might be extremely sincere.
As a human being, I don't trust any entity that coldly, calculatedly, tries to make me scared and trigger a stress response. The people I listened to didn't seem very afraid themselves. They were well-fed, middle-class, and not underemployed. They were not afraid to be arrested at a protest—and actually they sought to be arrested, without any fear for their future employment. After seeing that, I started asking questions as to why they wanted me to be afraid, and what they wanted me to do. When I started asking questions and researching, it turned out that the trajectory of "solutions" included things like smart grids, electric cars (that are not remotely green), and geoengineering. That, to me, was not acceptable. It also meant that they didn't really respect the planet because if they did, they wouldn't want to stick towers everywhere or spray crap in the atmosphere to block the sun. Now, it is very possible that the environmental movement was good and honest when it just started—but a lot of it has been since hijacked, in a very stealthy way where the people on the ground don't even realize whom they are serving. And again, let me repeat: There is a tremendous need for true sustainability, it's just that the practical measures implied by the coded marketing language are not sustainable at all!
In any case, scaring the people with the official narrative of the climate emergency definitely created a ripple in people's consciousness and a degree of environmental anxiety, especially in Gen Z—but it didn't do enough to either paralyze or mobilize. But when the virus came along, as if by magic, things started falling into places quickly—things that had been unthinkable before. No, I am not saying that the virus isn't real. And I am not making any definitive statements about where it came from or how it came about. I have my theories but some things, I just won't know, and can't change. But what I know is that the reaction has been absurd, unprecedented, and strangely consistent with the action items that had already been on the agenda. Speaking of emergencies, Woodstock happened during a big pandemic…
So let's see.
Did we forcefully move most activities—such as education, medicine, shopping, sex, and recreation—online for now, as we are working on "digitizing" the physical world, for easy tracking and surveillance?
Check.
Did we, despite the lockdowns for white collar peasants, continue with construction—including very robust construction of new telecom structures and cellular antennas, necessary to support the IoT?
Check.
Did we succeed at near destroying the livelihoods of many independent farmers who were competing with our new "edible" products, and also at disrupting the traditional food supply chains?
Check.
Did we also succeed at destroying a good number of small face-to-face businesses?
Well, of course!

Live music venues and theaters?
For sure.
Are we working on replacing law enforcement with AI?
You bet! Defund! Defund! Defund!
Are we trying to legitimize complete erosion of privacy and easy access to private health data?
Yes! Because health emergency.
Are we on target when it comes to tracking every movement of every person?
Contact tracing, yes! But some countries are still behind.
Is a digital health ID now required for international travel?
Yes, Common Pass is live!
Have we been able to disrupt political and legal procedures and create chaos?
Yes, Sir!
Importantly, have we succeeded at messing up human thinking and relationships to the extent that we, the robot, the abuser, are now everybody's only friend?
Still working on it but close.
Are we well on target with prepping the people for a broad rollout of smart wearables?
Yep. Wear your mask.
Are we legally controlling people's sex lives?
Yes!
Speaking of, state control of people's bodies and sexuality is a classic sign of a religious reform. Whenever that happens, watch out.
Or let's take lockdowns, for example. Lockdowns and restrictions of movement and physical contact are great tools of behavioral modification—and behavioral modification, also known as social engineering, is for sure a very respected art form among the powerful ones. A self-respecting social engineer plans ten steps ahead and creates situations in which targets beg for desired changes! I posit that currently, we are subjected to an involuntary S&M dance. We are in the middle of a ritual of designed to create a sense of confusion, insecurity, and dependence—eventually to be resolved by our Masters, for which we will be very grateful because we will just want to the unbearable tension to be resolved. Already, many have developed the Stockholm Syndrome, siding with the abuser. The measures are entirely arbitrary—but it doesn't matter, we are expected to comply and to accept that our suffering and deprivation are for our own good. It makes us a "better person."
In the eyes of a psychopath, there is no joy.
In the eyes of a slave, there is an acceptance of a strange feeling of numbness where the soul used to be.
Where do we go from there?
I, for one, don't think that we should accept the darkness. I think that our best option is to insist on dignity and to find our hearts. Our hearts will tell us what to do next.


UPDATE: Here's a song that I wrote about all of this a couple of years ago. I realized that it could be a very fitting soundtrack.
Tessa Fights Robots by Tessa Makes Love
Links and References.
History
https://harpers.org/archive/2008/02/the-next-bubble/
https://www.forbes.com/sites/johnmauldin/2017/05/31/mauldin-brace-yourself-for-the-great-reset/#ee9ce795d382
https://www.imf.org/en/News/Articles/2020/06/03/sp060320-remarks-to-world-economic-forum-the-great-reset
https://www.worldbank.org/en/programs/sdgs-2030-agenda
https://sustainabledevelopment.un.org/post2015/transformingourworld
https://www.weforum.org/press/2019/06/world-economic-forum-and-un-sign-strategic-partnership-framework/
https://www.weforum.org/agenda/2020/09/how-much-is-this-planet-worth-the-value-of-nature
https://sustainabledevelopment.un.org/outcomedocuments/agenda21
https://www.weforum.org/projects/frontier-2030
amazon.com/Wall-Street-Bolshevik-Revolution-Capitalists/dp/190557035X
Finance
https://www.securities.io/federal-reserve-developing-cbdc-digital-dollar/
https://www.forbes.com/sites/darrynpollock/2020/01/28/the-global-consortium-for-digital-currency-governance-represents-cryptocurrency-arriving/#802128eae729
https://www.weforum.org/agenda/2019/01/visualizing-the-snowball-of-government-debt
Governance
https://newrepublic.com/article/159823/constitution-crisis-supreme-courthttps://www.weforum.org/agenda/archive/the-new-data-economy/
https://www.weforum.org/agenda/2017/02/role-of-government-digital-age-data/
https://www.weforum.org/agenda/2014/06/joseph-nye-government-age-internet/
https://www.weforum.org/agenda/2018/10/could-robot-government-lead-better-current-politicians-ai/
governance-and-smarter-globalization-klaus-schwab-column/940531001
https://www.usatoday.com/story/opinion/2017/12/12/our-fractured-world-needs-agile-

Behavioral Modification
https://theconversation.com/morality-pills-may-be-the-uss-best-shot-at-ending-the-coronavirus-pandemic-according-to-one-ethicist-142601
https://www.wired.co.uk/article/virtual-prisons
https://pdf.usaid.gov/pdf_docs/PCAAB500.pdf

Food and Agricuture
https://ieep.eu/news/how-to-deliver-on-the-eu-farm-to-fork-s-protein-transition-objectives
https://interestingengineering.com/the-explosion-of-insect-protein
https://www.cnbc.com/2020/02/14/bug-protein-how-entrepreneurs-are-persuading-americans-to-eat-insects.html
https://www.ibm.com/blockchain/solutions/food-trust
Education
https://twitter.com/elleprovocateur/status/1320871942996561925

Energy and environment
https://www.gov.uk/government/news/uk-and-world-economic-forum-to-lead-regulation-revolution-to-foster-industries-of-the-future
https://www.npr.org/2019/09/10/759376113/unfurling-the-waste-problem-caused-by-wind-energy
https://www.weforum.org/agenda/2020/10/ai-billion-trees-sahara-desert-technology
https://www.wired.com/story/the-world-might-actually-run-out-of-people/
https://patentscope.wipo.int/search/en/detail.jsf?docId=WO2020060606
https://patentscope.wipo.int/search/en/detail.jsf?docId=US291464337
https://www.weforum.org/agenda/2018/05/from-synthetic-life-to-re-engineering-the-climate-how-were-learning-to-manage-the-earth/
https://www.popsci.com/environment/article/2009-01/harvesting-energy-humans/
https://www.bloomberg.com/news/articles/2020-10-19/space-garbage-solutions-could-help-fix-earth-s-plastic-problem-kggdc0e9
https://time.com/collection/great-reset/5900739/fix-economy-by-2023/
https://www.nasdaq.com/articles/bill-gates-and-big-oil-are-chasing-the-nuclear-fusion-dream-2020-06-03
https://www.bloomberg.com/news/articles/2018-10-30/nuclear-fusion-financed-by-billionaires-bill-gates-jeff-bezos
https://futurism.com/the-byte/bill-gates-nuclear-energy
https://www.imdb.com/title/tt6818554/
https://www.theclimatemobilization.org/resources/whitepapers/victory-plan/
https://twitter.com/TessaMakesLove/status/1318237788400209921
https://www.congress.gov/bill/116th-congress/house-resolution/109
https://www.ecowatch.com/asbestos-climate-crisis-solutions-2648226767.html
https://www.bbc.com/news/technology-54538849
"Build Back Better"
https://www.weforum.org/agenda/2020/04/how-to-build-back-better-after-covid-19/
https://joebiden.com/build-back-better/
https://www.gov.uk/government/news/build-build-build-prime-minister-announces-new-deal-for-britain
Please check out Tessa Lena!
---
The Establishment's Plan To Divide Part 2: COVID-19, Election 2020, And The Great Reset
With the American public only weeks away from the 2020 presidential election it's time to examine the narratives that are being crafted.
This article is part 2 in a series which I started in December 2016, just weeks after Donald Trump was elected President of the United States. In that piece, I argued that a psychological operation was beginning to take shape involving Trump, the emerging fake news meme, and the fear of Russia interference in American politics. The goal of the operation, I wrote, was "to further divide the American public between Statist, establishment-worshiping minions, and principled, critically thinking truth seekers."
Unfortunately, my forecasting has largely held true, with the American public apparently more divided than ever. Additionally, the independent media has all but been squashed after four years of falsely being labeled Russian stooges or useful idiots. However, as we near election 2020, it's even more necessary than in 2016 to step back and analyze the plans of the Predator Class. Let's take a look at the pieces of the puzzle.
COVID-19(84)
Obviously, when I wrote part 1 of this series I had no idea that something called SARS-Cov2 would play such a monumental role in shaping the collective reality of the entire planet. Despite my failure to foresee the COVID-19 operation, my predictions have, sadly, largely come true. Over the last 9 months, the team at TLAV has produced dozens of written investigations and video reports documenting the lies and fabrications associated with the spread of COVID-19. During my 3-part investigation into Bill Gates I exposed how the Bill and Melinda Gates Foundation and other connected organizations are steering the fight against COVID-19. As part of her Engineering Contagion series, Whitney Webb examined the various individuals and institutions which have been conducting exercises on the spread of viral pathogens over the last two decades and how they plan to unleash an all pervasive biosecurity state. Ryan Cristián has relentlessly produced video reports detailing the limitations of masks in preventing the spread of pathogens, the false positives associated with the PCR test, the lack of science behind the lockdowns, and the rise of authoritarian tactics by police and governments around the world.
As I wrote in part 2 of my investigation on Parasite Stress Theory, "The authoritarian measures have now grown to include the following:
– checkpoints (asking about travel, checking temperatures)
– temperature screenings at some airports
– contact tracing apps cataloging all your movements and contacts
– emergency orders/executive orders supporting forced vaccinations, isolation, and quarantine
– involuntary quarantine centers/camps
– thermal drones watching people from the sky
– talk of mandatory vaccines (or making it difficult to live without vaccination)
–face recognition tech to fight covid19 (by tracking people violating lockdowns)
– discussion of immunity passports/digital certificates to travel
– censorship of alternative viewpoints
– raiding of businesses for not closing
– arrests of people violating lockdown (and this, and this)
– ankle monitors for those violating quarantine orders
– roving cops searching for people not in the "proper" places"
These conditions have only accelerated as the so-called "new normal" drags on for the 9th month. Despite the numerous holes in the "COVID-19 is the most dangerous thing ever" narrative, governments around the world are currently discussing shutting down their nations and economies in preparation for an alleged "second wave" of COVID-19 infections. I have also previously reported on the two fictional scenarios organized by the Gates Foundation and the Rockefeller Foundation, which eerily describe a vision which reflects much of what we are seeing around the world in response to COVID-19. I wrote:
"On October 18, 2019, the Bill and Melinda Gates Foundation partnered with the Johns Hopkins Center for Health Security and the World Economic Forum on a high-level pandemic exercise known as Event 201. Gates is a long time "Agenda Contributor" for the WEF and has donated to Johns Hopkins. Event 201 simulated how the world would respond to a coronavirus pandemic which swept around the planet. The simulation imagined 65 million people dying, mass lock downs, quarantines, censorship of alternative viewpoints under the guise of fighting "disinformation," and even floated the idea of arresting people who question the pandemic narrative."
The Gates Foundation's partners in "philanthropy" – the Rockefeller Foundation – imagined a similar scenario as part of their 2010 document, "Scenarios for the Future of Technology and International Development." This document includes a scenario called "Lock Step," which describes a pandemic sweeping the world and resulting in more authoritarian control from governments in developed countries. Interestingly, Lock Step notes that while the "pandemic blanketed the planet" the countries which took a more aggressive, authoritarian approach fared better.
"The Chinese government's quick imposition and enforcement of mandatory quarantine for all citizens, as well as its instant and near-hermetic sealing off of all borders, saved millions of lives, stopping the spread of the virus far earlier than in other countries and enabling a swifter postpandemic recovery," the document states.
The document describes how national leaders around the world "flexed their authority and imposed airtight rules and restrictions." These included mandatory wearing of face masks and body-temperature checks at train stations and markets, as well as "scanners using advanced functional magnetic resonance imaging (fMRI) technology… to detect abnormal behavior that may indicate 'antisocial intent.'" Lock Step also describes the implementation of biometric ID for all people.
Notably, the paper states, "Even after the pandemic faded, this more authoritarian control and oversight of citizens and their activities stuck and even intensified."
Finally, I have exposed the reality of Parasite Stress Theory and the empirical evidence which shows that populations become more obedient, accepting of authoritarian measures, and prefer conformity from their peers, when they believe their lives are under threat of a deadly pathogen, such as a virus.
It is abundantly clear, to those who are rigorously poring over the data, that COVID-19 is not the danger we have been sold. In late September, the US CDC even admitted the death rate is below 1 percent. Unfortunately, rather than taking this knowledge and reporting it as a positive development, the corporate media has either ignored these stories or demonized them as "anti-science" conspiracy theories. This begs the question – why? Where is all this leading?
Bottom Line: The corporate media, captured science, and corrupt governments have used the COVID-19 operation as cover for expanding police state and surveillance tactics. Throughout this year we have seen populations of whole nations submit and acquiesce to whatever insane mandates the health authorities and politicians demand.
Civil Unrest, Election 2020, The Second Wave, and The Darkest Winter
Four years ago I wrote that I believed, "Trump is a part of the program. He is keeping the people divided and distracted while the American public fights about the veracity of their news, and the government searches for ways to begin regulating independent journalism while pretending to care about truth." I stand by this claim.
Four years of the Trump administration has shown that – while he may occasionally play the role of the wild card – Donald Trump is most certainly playing a role in the Establishment's plan. What is that plan? To divide the people so they may conquer the people. In part 1 of this series I wrote:
"Trump is the Great Divider, playing his role to keep the people fighting while the parasite classes take down independent media and sell the American public into a proxy war with Russia."
I originally believed the goal of "keeping the domestic front as divided as possible while selling the brainwashed masses into another war" – meant a proxy war with Russia or Iran. While these battles are still being waged, I now see that the goal is to keep the domestic front as divided as possible while selling the propagandized masses into an engineered civil war.
Not only has the corporate media been floating the idea of a civil war since the beginning of the Trump administration, but now Americans are literally killing each other in the streets over political debates. Trump is doing a grand job of playing the role of The Great Divider. Trump acts like a buffoon and says the kind of outrageous things you would expect to hear from a former WWE wrestler. The media reacts to Trump and his increasingly authoritarian measures and makes sure their bias is as obvious as possible. The Trump supporters and anti-left wing activists respond to the bias with the assumption that the media's hatred for Trump must be an indication he is on "our side." The more ridiculous Trump acts, the more vile the media, and the more divided the streets become.
However, it is important for readers to understand that Trump is not an exception to the presidency. He is simply the ugly, cold hard truth finally revealed for the masses to see. Unless you are a blind Trump worshiping cult member who is unwilling to admit his flaws, it is clear to see Trump has continued the trends advanced by previous Presidents Obama, George W. Bush, Bill Clinton, and so on. While Obama was a well spoken, young black man who possessed the ability to speak with forked tongue and convince the anti-war left that drone bombs are not war, Donald Trump has ripped the false air of legitimacy and the pretense of civility from the American presidency. Again, he may be unpredictable (or even entertaining) from time to time, but he is as much of a threat to liberty as the previous presidents.
Throughout the last four years, Donald Trump has consistently played the role of the divider rather than attempting to unite the American people guided by the belief in individual liberty. Of course, Trump cannot be blamed solely for the growing movement against police violence and subsequent protests and riots. He is simply playing his role, while corporate media and, yes, organizations with ties to George Soros attempt to influence and direct the movements of people who are beginning to question state violence. These converging forces – with Donald Trump stoking the flames of division at every turn and a potential "color revolution in the U.S. – are setting the stage for a mass conflict centered around the U.S presidential election on November 3rd, 2020.
Which leads us to a number of recent simulations of the 2020 U.S. election which have resulted in chaos and potential civil war. It would be easy to dismiss these exercises as politically driven fantasy if the people involved had not already publicly advised their candidate not to concede the election under any circumstances. Most recently, media reports indicated the Transition Integrity Project (TIP) held a number of exercises simulating what might happen in the event Donald Trump loses the 2020 election, but refuses to leave office. The TIP itself is a secretive group made up of "Never Trump" neocon Republicans and Democrats associated with the Obama administration and Hillary Clinton.
The Boston Globe reported that the TIP met in June to simulate the 11-week period between Election Day on November 3rd and Inauguration Day on January 20, 2021. The exercises state that "Trump and his Republican allies used every apparatus of government — the Postal Service, state lawmakers, the Justice Department, federal agents, and the military — to hold onto power, and Democrats took to the courts and the streets to try to stop it."
The TIP envisioned one scenario where Trump wins and Biden refuses to concede and instead asks for a recount and makes several demands, including to give statehood to Washington, DC and Puerto Rico, and divide California into 5 states. In the exercises Joe Biden is played by John Podesta, Hillary Clinton's 2016 campaign manager and chief of staff to former President Bill Clinton. The simulations essentially end in a constitutional crisis where there is no clear President and the Supreme Court or possibly the military play a deciding role.
This unprecedented event could be disastrous for American life as it is likely activists from both sides of the vote would take to the streets to protest what they believe is a theft by their opponents. If you think protests and fights between extreme leftists and extreme right wingers are contentious, just wait until they both feel shafted during the presidential election. Those opposed to Trump will claim Biden won and Trump is attempting to steal the election and create a fascist dictatorship. The Trump supporters will say the Satanic Radical Leftist Democrats are attempting a coup to establish a Communist Police State. The result will be neighbor turning against neighbor, family members disowning one another, and some political activists may escalate their tactics from protests to violence. For more information on the TIP simulation please read Whitney Webb's fantastic piece, "Bipartisan" Washington Insiders Reveal Their Plan for Chaos if Trump Wins the Election.
Webb details other relevant simulations of the 2020 election:
"Well before the TIP or any of their affiliated groups emerged to conduct these doomsday election simulations, other groups were similarly engaged in "war games" that predicted complete chaos in the U.S. on election day as well as the imposition of martial law in the U.S. following the emergence of unprecedented unrest and disarray in the country.

Several of these I detailed in a series earlier this year, which mainly focused on the "Operation Blackout" simulations conducted by the U.S.-Israeli company, Cybereason. That company has considerable ties to the U.S. and Israeli intelligence and its largest investor is Softbank. Notably, Softbank is named by the Eric Schmidt-led National Security Commission on AI (NSCAI) as forming the "backbone" of a global framework of A.I.-driven companies favored by the "cooperation" faction as a means of enacting the "Fourth Industrial Revolution" in cooperation with China's economic and political elite."
Operation Blackout involved hackers taking control of city buses around the U.S., crashing into voters waiting in line at polling stations, hacked traffic lights causing accidents, and the release of "deepfakes" to manipulate the public. The simulation resulted in the cancellation of the 2020 election and the imposition of martial law.
While these exercises have simulated the potential for a contested election between Donald Trump and Joe Biden and the likely chaos that will follow, it is also necessary to understand a simulation which happened nearly two decades ago and what role it may play in the months to come. The Dark Winter exercise took place in June 2001, only months before the 9/11 attacks. This exercise took place at Andrews Air Force Base in Camp Springs, Maryland, and involved several Congressmen, a former CIA director, a former FBI director, government insiders and privileged members of the press. The exercise simulated the use of smallpox as a biological weapon against the American public. The Dark Winter script also discusses how options for martial rule "include, but are not limited to, prohibition of free assembly, national travel ban, quarantine of certain areas, suspension of the writ of habeas corpus [i.e. arrest without due process], and/or military trials in the event that the court system becomes dysfunctional."
The full context of the exercise can be understood by reading Whitney Webb's piece, but what is important to know is Dark Winter was largely written by Tara O'Toole, Thomas Inglesby, and Randall Larsen. As Webb has illustrated, these three people were directly involved in the response to the alleged anthrax attacks which took place in the days after September 11, 2001. These individuals personally briefed Vice President Cheney on Dark Winter.
Coincidentally, these individuals were also involved in the Event 201 exercise in October 2019, and in a less well-known exercise in 2018. Event 201 was co-hosted by the Johns Hopkins Center for Health Security, which is currently led by Dark Winter co-author Thomas Inglesby. As part of the 2018 Crimson Contagion exercise, O'Toole and Inglesby examined how a bioterror attack could trigger the first stages of martial law in the United States.
The final note on Dark Winter is related to the media's promotion of a potential "second wave" of COVID-19 hitting the United States if mask mandates, social distancing, and lockdowns are not followed. Bill Gates and other influential pundits and health authorities warned about a second wave which might arrive in the fall of 2020. Well, here we are, and reports are beginning to come in that "cases are on the rise", mostly in Europe for the moment. This is what makes one statement from Richard Bright, former director of Biomedical Advanced Research and Development Authority, all the more concerning.
Bright was recently celebrated as a whistleblower who attempted to hold the Trump administration accountable during the COVID-19 battle. However, while speaking in front of Congress, Bright stated, "without clear planning and implementation of the steps that I and other experts have outlined, 2020 will be darkest winter in modern history." Now, maybe Bright is simply a concerned scientist warning about the potential for more sick people, but his use of the phrase "darkest winter" is hard to ignore.
With the knowledge of the TIP simulation, the Cyberreason simulation, the Crimson Contagion simulation, and the Dark Winter exercise, we should be cautious regarding narratives that are spun in the coming final weeks before the presidential election. With the connections between the individuals associated with these exercises and those involved in the fight against COVID-19, we should also be prepared in the event the predicted chaos comes to fruition.
Think back to how the Rockefeller's Lock Step scenario unfolded. While the document states that Americans are initially accepting of the authoritarian lockdown measurers, it goes on to describe how, eventually, the people of the world tire of the control and civil unrest would begin:
"By 2025, people seemed to be growing weary of so much top-down control and letting leaders and authorities make choices for them. Wherever national interests clashed with individual interests, there was conflict. Sporadic pushback became increasingly organized and coordinated, as disaffected youth and people who had seen their status and opportunities slip away—largely in developing countries—incited civil unrest."
While it might be convenient to dismiss Lock Step (and all the other exercises) as a coincidence, it would be short-sighted to ignore them considering the Gates and Rockefeller Foundations are heavily involved in funding the global health industry. These exercises are predicting chaos in response to pandemics and election night civil unrest. Trump and the Democratic Establishment are playing their role to push the American people to pick a side.
Meanwhile, my predictions regarding the attacks on independent media have also come to fruition. Four years ago I wrote, "If Trump is the establishment's wolf in sheep's clothing, the Fake News meme is the establishment's tool for distraction and division." Over the last four years the fake news label has been used to shadow ban, delete, and censor content creators and journalists. Trump plays his role as if he is in opposition to censorship – in reality he is fine with authoritarianism as long as it is his side in control – and "this feeds back into the love/hate Trump loop, further dividing Americans."
Quite simply, "those who hate Trump feel justified in their discontent and are happy to buy media lies about Russian interference in the election and fake news spread by uneducated Trump supporters. On the other side of the fence, Trump supporters feel justified in their distaste for the corporate media and their apparent "anti-Trump bias." The media's focus on Trump and repetition of unconfirmed rumors from unnamed government sources fuels the anti-establishment mood of the pro-Trump camp."
Bottom Line: Donald Trump has successfully played the role of the Great Divider and is doing his job to foment chaos and uncertainty surrounding election 2020. The Establishment is also preparing for the possibility of martial law in response to this chaos and uncertainty. Meanwhile, the public is being prepped for a second wave of COVID-19 infections which could lead to the foreshadowed Darkest Winter. We don't promote fear here, but we do encourage everyone to heed these warnings and be prepared for unrest in the days and weeks following the election.
---
The Great Reset of 2021
A global pandemic wreaking havoc on the world's economic, political and social systems. Civil unrest brewing in response to police violence and unconstitutional lockdowns. Hundreds of millions of jobs lost around the world. A rise in physical violence between opposing political groups. A contested election during the most contentious time in recent history. Where exactly are we headed?
As I recently outlined, the vision of the power elite is known as "The Great Reset" and was announced in early June by the World Economic Forum. The WEF was involved in the aforementioned Event 201, in partnership with the Bill and Melinda Gates Foundation and the Johns Hopkins Center for Health Security.
The launch of The Great Reset was supported by Klaus Schwab, the founder and executive chairman of the World Economic Forum; England's Prince Charles; Antonio Guterres, Secretary-General of the UN; and Kristalina Georgieva of the International Monetary Fund. The kick-off was truly an international event with the participation of Ma Jun, the chairman of the Green Finance Committee at the China Society for Finance and Banking and a member of the Monetary Policy Committee of the People's Bank of China. The event was also supported by Bernard Looney, CEO of BP; Ajay Banga, CEO of Mastercard; and Bradford Smith, president of Microsoft.
In an opinion piece published in The Globe and Mail, Klaus Schwab provided more details on the goals of The Great Reset (emphasis added):
"COVID-19 lockdowns may be gradually easing, but anxiety about the world's social and economic prospects is only intensifying. There is good reason to worry: a sharp economic downturn has already begun, and we could be facing the worst depression since the 1930s. But, while this outcome is likely, it is not unavoidable. To achieve a better outcome, the world must act jointly and swiftly to revamp all aspects of our societies and economies, from education to social contracts and working conditions. Every country, from the United States to China, must participate, and every industry, from oil and gas to tech, must be transformed. In short, we need a "Great Reset" of capitalism."
In short, the vision of Schwab and his ilk is a top-down centralized world run by technocrats who manage the world's resources and people in the name of saving the planet.
As TLAV's has previously documented, the WEF operates in a similar fashion to the Bill and Melinda Gates Foundation: their publicly stated goals mask a global control agenda. Thus, it should come as no surprise that Klaus Schwab, founder of the WEF, is a former attendee and member of the Steering Committee for the secretive Bilderberg Group. The WEF itself is akin to a more public Bilderberg Group which brings together around 3,000 business leaders, international political leaders, economists, celebrities, and journalists for a five day conference to discuss global issues. The WEF meets every January in Davos, Switzerland, to discuss their agenda. The elitism of the WEF has resulted in Schwab and his cohorts being nicknamed The Davos Class.
In January 2021 the theme of the WEF meeting will be "The Great Reset." It's important that we keep an eye on the WEF and their push for the Great Reset as we draw closer to election 2020 and a potential Dark Winter. Klaus Schwab, Bill Gates, and their associates are determined to present themselves as the saviors of humanity. They are using the COVID-19 panic as an opportunity to push their agenda while selling it as the cure to our problems.
As every student of power and deception knows, the easiest way to achieve victory over your opponent is to guide them to a predetermined destination which benefits your agenda. If you can do this while convincing your opponent that they are consciously making their own choices and the path is for their own good – well, you are all but guaranteed success. I believe the evidence indicates this is the strategy we are seeing unfold during the COVID-19 operation and upcoming 2020 election.
Bottom Line: The Predator Class attempts to mask their true intentions with flowery language designed to lull the waking masses back to sleep. It is true that our world is existing in an unsustainable paradigm. We do have growing income inequality, police violence, failing healthcare systems, and insufficient food production systems. These problems were apparent before COVID-19 and the fragility of these systems has indeed become more obvious in recent months. However, these psychopaths would prefer if we allowed them to stay in the driver's seat as they careen us into a future of technocratic control and the end of individual liberty. We must reject their version of the Great Reset and use the momentum and desire for change to create a world that respects individual liberty.
In conclusion, I believe we have a potentially narrow window of time to inform our friends and family, and motivate them to prepare for what may be on the horizon. We can spend our time attempting to convince them of the lies of COVID-19. We can also try to educate them about the numerous exercises predicting chaos and civil unrest across the United States. As important as education is in the Information War; now might be the time to focus our energy on helping our families be prepared for what may come. Rather than attempting to convince them to see what you see or believe what you believe, perhaps we can simply help keep them safe until they can clearly see the writing on the wall.
I want to reiterate that I do not write these words in hopes of inspiring fear or stress. In fact, I hope that this analysis can paint a clear enough picture of the grim reality we are facing so we may act! It is only by honestly facing our circumstances that we can hope to influence and change the path of humanity. This is a historic time to be alive and we have the opportunity to play a powerful role. It's time to shake off the shackles and expose those who seek to hold us back for their own sick purposes.
Question Everything, Come To Your Own Conclusions.
---
In light of the political and economic developments which have transpired since Covid-19 was first declared a pandemic, it is becoming clearer by the day how this public health crisis is being exploited to usher in a new global system of technocratic population control and compliance. We must wake from our stupor and identify what is shaping up to be an incredibly dystopian reality.
Keep reading
---
While more people are starting to talk about geo-fencing and medical passports, not enough grasp how blockchain identity and digital currency will interface with social impact investing to create an augmented reality prison-planet structure to profit the global elite. Their transhumanist "game" intends to harvest natural life forces as data in a misguided quest to trigger the singularity and turn us into cyborgs. The inability of people active in the blockchain space to engage on the topic of the spatial web and the environmental and psychic costs associated with the roll out of Internet of Bodies and the 5/6G infrastructure…
Keep reading
A growing contingent in the crypto world focuses on a concept of 'regenerative' finance termed refi, which relies on the premise that social engineering, through economic incentives, smart contracts, mass data collection, and Artificial Intelligence, can create a positive outcome on society, and thus avoid the abuse of incumbent power centers through 'decentralized' digital organizations which implement…
ARTICLES
Klaus Schwab and his great fascist reset
Resist the Fourth Industrial Repression!
World Economic Forum's 'Great Reset' Plan for Big Food Benefits Industry, Not People, by Jeremy Loffredo
It's not a Social Dilemma, it's the calculated destruction of the social, by Cory Morningstar
If the 'Great Reset' really is so good for us, let's hold a referendum on it, so it can have a democratic mandate (or not), by Neil Clark
Elite Transnational Fascism, by Ullrich Mies
The Philanthro-capitalist empire of Bill Gates, by Manlio Masucci
Who Voted In Davos? How Data-Driven Government and the Internet of Bodies Are Poised To Transform Smart Sustainable Cities Into Social Impact Prisons, by Alison McDowell
Blockchain Education, A Ticket To Digital Serfdom, by Alison McDowell
US – UK Intel Agencies Declare Cyber War on Independent Media, by Whitney Webb
"Own Nothing and Be Happy": The Great Reset's Vision of the Future, by Colin Todhunter
Resisting the 'reset' – a call to arms, by South Essex Radical Media
Hybrid War Waged On the People – Building For The Great Reset By Exploiting The New COVID 19 Abnormal, by In This Together
The New Normal: What is the UK Biosecurity State? (Part 1. Programmes and Regulations), by Simon Elmer
The New Normal: What is the UK Biosecurity State? (Part 2. Normalising Fear), by Simon Elmer
The Catastrophic Costs of Complying, by Laura Hayes
Fabricating a Pandemic – Who Could Organize It and Why, by Gregory Sinaisky
You're Being Conditioned to Live in a "Smart City" – Resist It, by Michael Krieger
The Great Reset and the COVID pandemic, by Terence Corcoran
The Great Pretext … for Dystopia, by Diana Johnstone
VIDEOS
The Great Reset & the The Fourth Industrial Revolution – video interview with Cory Morningstar
Your Guide to The Great Reset – Episode 387 of the Corbett Report
Operation Warp Speed — A Technocratic Chess Piece? Video with Dr Joseph Mercola and Whitney Webb.
Oneness vs the 1%' – interview with Vandana Shiva.
The ugly face of the Great Reset: human capital bonds and internet of bodies. Alison McDowell video interview with Yogeeta Mistry
Biometric Health Passports And The Panopticon, with Alison McDowell
Jason Bosch video interview with Julianne Romanello on moves by big tech to take over education, the WEF's Fourth Industrial Revolution, COVID-19 and more.
The New Model: Lifelong Learning, by Book of Ours.
What is the Great Reset?, with Del Bigtree and James Corbett.
Primer: The Ecology of Trust Mechanization – For the Fourth Industrial Revolution, by Wrong Kind of Green.
PODCAST
Demystifying the 4th Industrial Revolution with Cory Morningstar